Descriere
The Company is a leader in system's integrator based on data collection applications with the help of bar code technology and radio frequency identification (RFID).
If you're passionate about the transformative power of technology and innovation, this is the place for you!
Offer:
Trainings and personal development opportunities;
Competitive salary depending on skills and experience;
We know benefits are important, that's why we provide you: medical subscription; access to the Bookster library; fruits, water, tea and coffee at the office.
Requirements:
Bachelor's Degree;
2+ years experience in Customer Success and/or Account Management in a IT industry;
Appropriate level of technical knowledge and skills in order to achieve the sales targets;
Excellent English language skills (speaking and writing);
Strong customer focus;
Confident communication (written and oral) skills and a demonstrated ability to work collaboratively with all levels of internal and external organizations;
Driver's license, B category.
Responsabilities:
Manage multiple accounts from Retail field; develop positive working relationships with all customer touch points;
Generating new sales using existing and potential customer networks;
Set and track sales account targets, aligned with company objectives;
Collaborate with sales team to identify and grow opportunities within territory;
Prepare reports on account status;
Service multiple clients concurrently, often meeting deadlines;
Negotiate technical and commercial terms of the contracts to be signed;
Meet and exceed sales targets;
Participate to specific industry event(s) to meet with key customers in person.
Contact: www.qlt.ro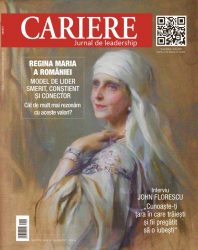 CARIERE no. 257, mai 2019
Citește-te acum