Descriere
What do we expect from you:
• English - verbal and written communication - advanced level
• Affinity with leasing/automotive, financial services or accountancy
• 3 years relevant work experience
• Accounting, reporting and tax knowledge
• Bachelor in finance, accounting, economics
• Strong analytical, problem-solving and organizational skills
• Ability to multitask, manage priorities and work in high-demanding environment
• Ability to meet strict deadlines.
What will be your main responsibilities:
• Fixed assets reconciliation;
• Indirect Costs Invoices bookkeeping;
• Tracking balances on monthly/interim accounts;
• To supply data for preparing monthly and annual financial reports- calculations and bookings: revaluation, accruals, interest, prepaid expenses/revenue etc;
• Relation with the tax authorities;
• Assistance for the VAT, Income tax, other specific returns to be submitted to the tax authorities;
• Assistance in the internal and external audit;
• Support for other accountants in specific bookings/situation;
• Back-up for the Chief Accountant, AP and AR specialists.
Offer:
Salary 3000 lei net;
• Yearly performance bonus;
• Meal tickets;
• Medical subscription;
• Career development possibilities.
www.QLT.ro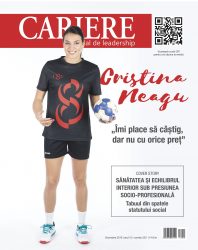 CARIERE no. 251, oct. 2018
Citește-te acum