Description
For our business partner, we are seeking a knowledgeable Accounting Team Leader who can lead and motivate accounting staff members and increase department accuracy and efficiency.
To succeed as an Accounting Team Leader, you should be analytical, detail-oriented, and honest. The ideal candidate should possess excellent leadership and interpersonal skills as well as a strong understanding of accounting and management principles and financial legislation.
Our business partner is a group providing Business Process Outsourcing services, operating an independent accounting business in the Central European region. They provide high-quality finance and accounting services in most countries across Europe, to local companies as well as subsidiaries of multinationals.
Main responsibility
Coordinating several projects simultaneously, involving tasks from transaction processing to tax returns and from management reports to financial statements
Maintaining communication with clients, their auditors, and tax authorities
Organizing and supervising the work of 3 to 5 Accountants
Acting as an effective advisor and mentor for the team
Decision-making related to service delivery and team
Main requirements
At least 5+ years of relevant experience in an accounting agency or in a multinational environment
Good command of Romanian accounting and tax matters
ACCA is in progress and experience in IFRS is a plus
Strong understanding of accounting, finance, and management principles.
Excellent leadership and communication skills.
Proficiency with computers, especially bookkeeping software, and MS Office
Fluent in verbal and written English
Bachelor's degree in Accounting, Finance, or a related field.
https://recrutare.evolvetoday.ro/jobs/2291127-accounting-team-leader
Related Jobs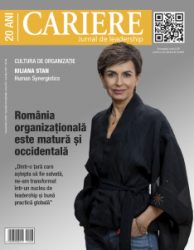 Revista CARIERE nr. 281 - Dec. 2022
CITESTE