Descriere
Together with our partner, the first and largest NBFI specialized in factoring solutions (financing, debt collection and receivables management), we are looking for a Accounting Team Leader to manage all financial transactions, from fixed payments and variable expenses to bank deposits and budgets.
Key Responsibilities
Oversees accounting activities conducted by outsourced accounting agency
Checks for accuracy the trial balances for Group companies
Manages and develops the accounting team
Prepares internal reporting regarding fiscal issues and external reporting to be submitted to the Romanian Authorities (i.e., the National Bank of Romania, the Fiscal Authority etc.);
Ensures fiscal compliance for the Group Companies
Actively involved in internal and external audit processes
Supports the Finance Director for various reports and projects
Conducts other tasks assigned by the Finance Director
Requirements
At least 5-year experience, including working with IFRS standards and covering various accounting areas
Experience in banking or financial services field would be a plus, preferably in a similar position or a senior role
Particularly good accounting and fiscal knowledge
Proficiency with Microsoft Office Suite
Advanced MS Excel skills including VLOOKUP and pivot tables
Strong diligence and good analytical skills
Excellent communication skills
Professional integrity and team spirit
Desire for continuous development
Compliance with deadlines
Advanced English communication skills
BSc in Accounting, Finance, or relevant degree
Additional certification (CECCAR or ACCA) is a plus
If this sounds interesting for you please send your resume at [email protected] and let's chat!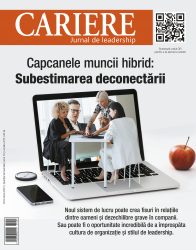 CARIERE, no.274, oct. 2021
Citește-te acum