Descriere
For our client, a project management company that offers fully professional services in a wide variety of industries, from mining & metallurgy, oil & gas, environment & water to infrastructure and clean power, we are looking for a Billing Agent (French speaker).
Responsibilities:
Prepare customer invoices according to billing conditions and instructions;
Prepare intercompany invoices;
Issue and send customer invoices including payments on customers' self-pay sites;
Issue credit reports;
Issue monthly statements of account for internal and external clients;
·        Update project information so that billing terms are always up-to-date;·        Update all project invoicing documentation in the central depository.
Requirements:
Very good knowledge of French (B2 level);
Good knowledge of English (B1 level);
University degree or relevant experience in accounting;
Basic Accounting Knowledge is a plus;
Excellent knowledge of Microsoft Office Suite;
Basic knowledge of Oracle or other ERP is a plus;
Work experience in shared services, process-based environment or service centers;
Strong team spirit;
Strong customer orientation;
Prioritizing and multi-tasking abilities;
Good analytical skills along with a good sense of thoroughness;
Very good communication skills.
Benefits:
Direct contract with the employer;
Competitive salary and flexible motivating benefits;
Team activities, Team Building, Fun @ Work;
Wellness programs for employees – fresh fruits, free coffee and tea, chair massage, employee wellness room;
Training and Development Program, Career Opportunities;
CSR and sport activities;
Open and dynamic environment;
Flexible work schedule organized in two shifts: Monday to Friday: 10:00 – 19:00 and 13:00 – 22:00.
* 3 mandatory shifts of evening work per month with the possibility of a maximum of 10 shifts of evening work per month (premium from the 6th shift of evening work).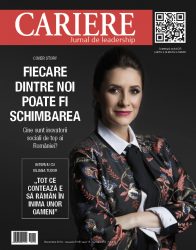 CARIERE no. 253, decembrie 2018
Citește-te acum