Descriere
Contact Center/BPO QA Manager with German / French & English-
Work from Home
The Romanian hub will offer contact centre support for one particular airline, core in Europe, but worldwide coverage.
As Quality Manager / Supervisor, you will be the expert transforming Quality goals into daily team play. You will have a key role in helping our teams constantly perform at international quality level standards.
Knowledge & Skills:
· Fluent in German / French (min. C1 level) & English;
· Min. 2 year experience in a similar role in a BPO / contact center environment;
· Previous experience in airlines/travel industries is a significant advantage;
· Excellent oral, written and interpersonal communication skills;
· Ability to relate and resonate at ease with a multi-cultural, diverse teaml;
· Strong coaching and giving feedback abilities;
· A genuine desire to help others improve and succeed;
· Exceptional listening and analytical skills;
· Excellent command of MS Office;
· Graduate in any discipline.
Main Goals:
· Lead initiatives and practice for meeting contractual SLAs pertaining quality audit targets;
· Identify risks, deliver feedback and recommendations on audited interactions within the specified timelines;
· Conduct team briefings on performance, Qualitative inputs, Process updates, top errors identified through monitoring, Q&A;
· Lead calibration & transactions check sessions with cross function teams to ensure quality standards are maintained;
· Produce and monitor variance and flux analysis for identifying improvement opportunities;
· Perform regular checks to ensure specific abnormalities are highlighted to the internal team/s;
· Ability to coach at an agent level & review performance on the end metrics FCR, C-SAT, AHT;
· Visual management Team wise daily and MTD scores on Quality, CSAT, CCR to help in identifying gaps in the Process or Technology, and make recommendations to streamline and improve;
· Partner effectively with training and supervising teams to update training materials and leading focus areas aimed at continuous Quality improvement;
· Mentor and train junior team members;
· Liaison with client(s) for proposing and adopting Quality improvement initiatives.
We Offer
· Work from Home;
· Competitive salary package;
· Career growth opportunities within an international growing organization.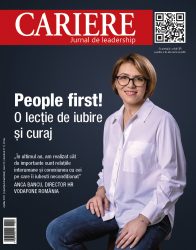 CARIERE no. 271, aprilie 2021
Citește-te acum