Descriere
The worldwide leader in developing, managing and delivering a unique array of On-Site Services, Benefits & Rewards Services as well as Personal and Home Services is hiring!
Join the great team of this competitive employer (Bucharest offices) and take the opportunity to work in a fulfilling and stable environment.
Job description & key responsibilities:
• Assist with the business cases and assess requests' feasibility;
• Eliciting requirements and requirements analysis;
• Translate stakeholder needs (business requirements) into clear, comprehensive and concise specifications and maintain them through all phases of SDLC;
• Requirements and documentation management; projects prioritization;
• Contribute actively to project plans; prioritize, plan and monitor through all life cycle; conduct review sessions to gain approval of requirements and manage changes and change requests;
• Present/support/propose projects in the Board; communicate design to all stakeholders;
• Manage a project's scope, acceptance, installation and deployment;
• Drive the design and review of test cases;
• Write, update, organize and manage procedures;
• Provides references for users by writing and maintaining user documentation; provide help desk support; train users;
• Lead cross-functional business process re-engineering teams;
• Partner with business units to negotiate and prioritize work items over the life time of IT projects;
• Share with business an in-depth knowledge in emerging technologies and software delivery; support business to follow new technologies, propose new products and/or developments.
Requirements:
• Strong communication and presentation shills;
• Negotiating skills, relationship management;
• Agile working experience;
• Proactive attitude;
• Project management skills;
• Quick understanding of systems concepts;
• The ability to conduct cost/benefit analysis;
• Business case development;
• Modeling techniques and methods;
• Ability to learn;
• Leadership.
Alte joburi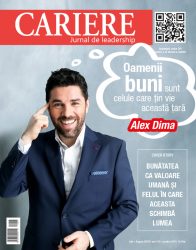 CARIERE no. 258, iulie 2019
Citește-te acum