Descriere
Volvo Group is one of the world's leading manufacturers of trucks, buses, construction equipment and marine and industrial engines under the leading brands Volvo, Renault Trucks, Mack, UD Trucks, Eicher, SDLG, Terex Trucks, Prevost, Nova Bus, UD Bus, Sunwin Bus and Volvo Penta.
Volvo Group Trucks Romania, part of the markets within Central East Europe, is committed to offer the best transport solutions for its customers by providing high quality Volvo and Renault trucks, excellent service and superior operational support and, to reach our goals, it is essential to attract, develop and retain the right people.
Volvo Group Trucks Romania is looking for a Business Controller. With our company you will be part of a global and diverse team of highly skilled professionals working with energy, passion and respect for the individual.
Purpose of the job:
The Business Controller is responsible for supporting operational management and CFO in Credit Management area, by active participation in taking business decisions, propose actions to optimize and drive business performance, risk management and value creation.
The Business Controller takes full responsibility for the Credit Risk function for the business, monitoring and credit vetting all new proposals, to limit the bad debt risk.
The Business Controller reports to the CFO of Volvo Romania and is a member of the Business Control Team. The position is based in Bolintin Deal, Highway A1, Giurgiu county where our headquarter facilities are located.
Main Responsibilities:
Oversee credit management policy and processes
Manage the credit risk strategy across the business
Control of credit limit approvals and management of extended credit terms
Build client relations while ensuring that payment terms are adhered to
Communicate with customers; answer their letters and phone calls
Prepare and send payment reminders
Monitor and follow up on Inter Company debts
Maintain and update the customer data base
Provide internal credit reporting: overdue, aging analysis, DSO, internal controls related reports
Attend client meetings and coordinate operational Credit Meetings
Manage the overall customer exposure portfolio
Produce specific detailed credit review
Provide information and support to operational teams
Monitoring of bad debt, provisioning and insurance claims
Bespoke project work and enhancements to existing systems
Manage audit controls around credit management area
Education and experience:
University degree in Economics/Business Administration or equivalent
Minimum 5 year experience in finance area, of which at least 2 year experience in credit control department of a multinational company
Experience in different finance areas including experience from treasury, internal audit, process improvement is a plus
Desired background from transport or retail industry
Knowledge of Romanian GAAP
Competencies and Skills:
Set high standards of professionalism and operate with integrity
Genuine interest in business processes and retail activity
Good interpersonal skills and ability to interact and influence at all levels both internally and externally
Strong team player
Process driven and proactive way of working
Strong written and verbal communication skills
Fluently written and spoken English
Fluently written and spoken Romanian
PC literate
The person:
Flexible, professional with strong credit control experience
Supportive, pro-active, persuasive and positive attitude in relation with internal and external clients, with excellent follow-up skills
Able to work on own initiative and also part of a team, in a dynamic environment
Target driven will always aim to hit your KPI's
Concise, fact base and structured in communication with internal and external customers
Able to drive changes and process improvements in Credit Management Area
Compensation and benefits:
The successful candidate will be offered a stimulating opportunity to utilize his/her competencies with a dynamic working environment.
How to apply:
Please send your application in full confidence at [email protected] deadline for submitting the application is 15th of February 2019.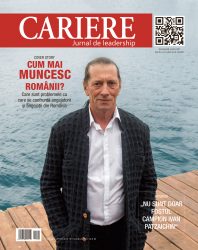 CARIERE no. 254, februarie 2019
Citește-te acum