Descriere
Account Manager - solutions for Manufacturing Industry
 The Company is leader in system's integrator based on data collection applications with the help of bar code technology and radio frequency identification (RFID).
With a background and good understanding in the Manufacturing Industry , you will develop trusting relationships with new customers for the purpose of identifying new opportunities, and selling IT&C services.
Responsabilities:
Generating new sales / new business, B2B, using existing and potential customer networks from manufacturing industry or logistics area (75% new business sales);
Manage multiple accounts from manufacturing industry or transport & logistics field, develop positive working relationships with all customer touch points;
Set and track sales account targets, aligned with company objectives;
Collaborate with sales team to identify and grow opportunities within territory: Bucuresti, Ilfov, Ploiesti, Pitesti, Dambovita, Giurgiu, Constanta);
Prepare reports on account status;
Service multiple clients concurrently, often meeting deadlines;
Negotiate technical and commercial terms of the contracts to be signed;
Meet and exceed sales targets.
Requirements:
Bachelor's Degree;
3+ years experience in Business Development and/or Account Management in IT&C industry (selling IT&C integrated solutions for Manufacturing Industry or Logistics &Transport Area);
Appropriate level of technical knowledge and skills in order to achieve the sales targets;
Excellent English language skills (speaking and writing);
Strong customer focus;
Confident communication (written and oral) skills and a demonstrated ability to work collaboratively with all levels of internal and external organizations;
Driver's license, B category (targeted areas: Bucuresti, Ilfov, Ploiesti, Pitesti, Dambovita, Giurgiu, Constanta).
Participate to specific industry event(s) to meet with key customers in person.
Offer:
Trainings and personal development opportunities;
Competitive salary 5000-6000 lei net depending on skills and experience;
We know benefits are important, that's why we provide you: working from home option, medical subscription; access to the Bookster library; fruits, water, tea and coffee at the office.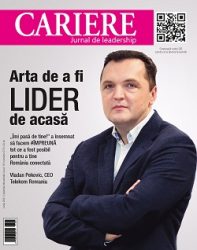 CARIERE no. 272, iunie 2021
Citește-te acum