Description
For our business partner, a software company that developed the first AI department for Call and Contact Center industry together with an out-of-the-box telephony platform (ticketing, workforce management, video inspector, chat bots), we are searching for a quality C# Developer to develop code and .NET solutions for our business. In this role, you will be required to design, write, and maintain C# coding for our future and ongoing projects.
Responsibilities
Design, development, and testing of new features in the applications
Responsible for regular communication with others involved in the development process
Implement, test, and bug-fix functionality
Responsibility for design and implementation of software projects using C#
Participate as a team member in fully agile Scrum deliveries
Provide support to end users
Design, build, and maintain efficient and reliable C# code
Requirements
At least 3+ years of experience in C# development
Experience in web development using different frameworks.
Experience with Microsoft environment (ex: Active Directory, Windows 7, Windows 8.1, Windows 10).
Knowledge of norms and standards regarding REST, and JSON.
Good knowledge of Visual Studio, TFS, and unit testing frameworks.
Good knowledge of relational databases (ex: MS SQL Server).
A good combination of rigor, creativity, and communication skills.
Proficiency in English.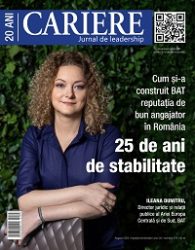 REVISTA CARIERE, NO. 279, AUGUST 2022
CITESTE