Descriere
Job Title: Call Center Operator
Location: National Office,
Department Marketing
Norm: 8 hours/day, fixed term
Major Responsibilities:
Supports Donors Service in donors retention & cultivation:
Verifies daily new donor accounts registered in WVR website and compares payment forms with actual income.
Verifies and accurately register donors' payment data into CRM systems daily by checking bank accounts and / or electronic payments accounts.
Prepares accurate daily, weekly and monthly reports on donor's payments status.
Informs Brand Coordinators on payments status.
Register (potential) donor /sponsor data into CRM system (corporate and individuals).
Makes sure all required reports are accurate and generated in a timely manner.
Contributes to Supporter's satisfaction efforts by: making follow up on delinquent sponsors, implementing telemarketing activities, dealing with sponsors requests. These activities will be coordinated with direct supervisor and team mate.
Provides feedback and participates in donor retention plan development / improvement.
Project Coordination Bread for Tomorrow and I want in 9th grade through Customer Care Support
Coordinates the operational team of the projects
Iwt9g and Bread for Tomorrow projects in order to have a good relationship with current and potential donors.
Work and respect the guidelines and standards of the 2 projects.
Improve customer service experience, create engaged customers to ensure donor retention:
- orientation to donors and their needs;
- makes questionnaires for finding donor satisfaction; provide excellent customer service to existing donors in projects.
Contributes to the implementation of the organization-wide marketing plan.
Contributes to the implementation of the donor plan established by the entire organization.
Building, managing, updating the organization's customer database.
Ensure the functionality and updating of WVR web pages.
Monitor the main KPI (dashboards) on each project and communicate them internally to the team.
Supports overall Marketing & Fundraising efforts.
Provides assistance in marketing and fundraising campaigns/projects development.
Knowledge, Skills, Abilities
University Degree in Marketing – or related
Interpersonal communication skills
Highly organized person, able to establish his/her priorities and get things done.
Excellent 'people skills' for building relationships at all levels: good listening skills;
Proficient in English – writing and speaking
Computer Skills (experience in working with CRM systems is a plus)
Outgoing and friendly attitude; calmness under pressure. Problem solving capabilities
Experience in Marketing
 Deadline for submitting the application: 08.11.2019
Interested candidates will submit their resume to:
Alexandra Pagidean, P&C Officer email: [email protected]  si [email protected]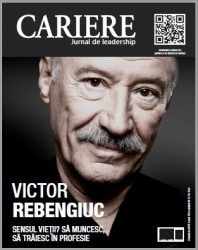 CARIERE no. 261, octombrie 2019
Citește-te acum