Descriere
For our business partner, a global brokerage and financial software company based in Norway, we are looking for a Client Services Analyst, to join their team in Bucharest.
You will be part of a larger back office team, working closely with the clients' representatives.
Responsibilities:
Monitoring the trading & settlement activity of the clients on a day to day basis by proper usage of the company's software;
Processing issuance of confirmations to the clients, checking incoming confirmations, following the trading activity;
Manual amendments as requested by clients on various trades, reports, or settlement channels;
Tracking and ensuring efficient settlement of DVP transactions;
Assist with the opening of new trading accounts, following compliance rules and various brokers' forms and procedures;
Handling the monthly accounting process of commissions with clients and company partners
Successfully resolving the day to day requests as they come in from clients;
Working with clients and custody companies in solving the trades' settlement and other queries;
Reconciling accounts activity reports, margin reports, and trade settlement reports;
Processing payments, off-market trades, confirmations, and bookings to the client's accounts;
Daily checking and booking dividends to client accounts and dealing with various other corporate events such as stock splits, tender offers, subscriptions, and so on;
Maintaining good contact with other internal departments, providing various information and support in case of need.
Skills we are interested in:
Very good English knowledge - verbal and written;
Client service minded;
Knowledge of the financial markets and financial instruments (bonds, derivatives, stocks);
Knowledge of settlements is considered a plus;
Numeracy skills;
High level of accuracy; attention to detail;
Proactive team player;
Ability to work under pressure;
Methodical and thorough individual;
Very good PC skills (Office, XLS, Word).
If this sounds interesting for you, please send your resume at [email protected] and let's chat!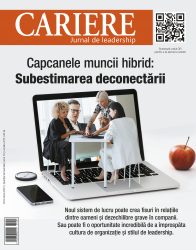 CARIERE, no.274, oct. 2021
Citește-te acum