Descriere
For our client, a Finance Shared Services Centre based in Bucharest - Pipera, we are looking for a Collection Agent (French speaker).
The company offers fully professional services in a wide variety of industries, from mining & metallurgy, oil & gas, environment & water to infrastructure and clean power.
Responsibilities:
Accurate execution of collection related tasks, working procedures and strategy;
Performing client account reconciliations;
Performing root cause analysis, identify issues/gaps and provide resolutions;
Constantly communicate with clients in the portfolio, project teams and other departments interrelated to Accounts Receivable process;
Identifying areas where process/system improvements are needed;
Sharing knowledge by contributing to the creation/update of team procedures and documentation;
Performing other tasks related to Resolution & Inquiry activities.
Requirements:
University Degree (studies in Economics is plus) or relevant work experience;
At least B2 French language level;
At least B1 English language level;
Experience in the credit and collections field (would be a plus);
Excellent communication skills;
Experience in customer service-related tasks is a plus;
Knowledge of the Order-to-Cash process is a plus;
Excellent knowledge of Microsoft Office Suite.
Capabilities and qualifications:
Strong problem-solving skills;
Excellent communication skills;
Strong team player;
Result and customer service oriented;
Able to efficiently manage time, set priorities and complete multiple tasks simultaneously;
Attention to details paired with good analytical abilities;
Work experience in a shared service environment is a plus.
Benefits:
Direct contract with our client;
Flexible working schedule organized in shifts - 9:00-18:00, 10:00-19:00, 13:00-22:00 (13:00 – 22:00: 8 days/month);
French language allowance;
Free French language classes;
Motivational financial package & flexible benefits;
Team and [email protected] activities;
Employees Wellness Program – fresh fruits, chair massage, employee wellness rooms;
Learning and Development programs, Career opportunities;
CSR & Sport activities;
An open and dynamic work environment.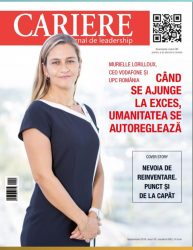 CARIERE no. 260, septembrie 2019
Citește-te acum