Descriere
We are seeking an experienced Commercial Manager to drive and coordinate our business partner's procurement activities.
The Commercial Manager's main responsibility is to create and develop an agile network of local and international suppliers for a state-of-the-art e-commerce ecosystem. She/he solves any problem quickly, is an excellent communicator and has a great passion for products sourcing and the purchasing area.
Our partner – the latest initiatives of a top Romanian company with almost 20 years of presence on the market which aims to build a software ecosystem for modern eCommerce from scratch based on the principles of people's natural behavior of exploration, discovery, and adventure.
Central location: Nearby University subway station
Work at the Office & remote
Responsibilities
Creates and develops relationships with internal and external suppliers and represents the commercial interests of the company
Negotiates all contractual aspects with all suppliers
Performs risk analysis on main suppliers, seeks alternative suppliers and executes plans to withdraw products or categories of non-performing products
Elaborates strategies to ensure the continuity of stocks and services, to avoid blockages in operation
Defines, coordinates, and monitors suppliers' performance reports, to ensure compliance with management objectives (cost, quality, service, delivery)
Plans, monitors, evaluates, and coordinates all the activities of the procurement department
Evaluates and monitors team performance
Proposes and implements a system of viable and sustainable performance indicators in accordance with the company's strategy
Requirements
Degree in business administration or a related field
Experience as a Purchasing Manager or in a similar position
Prior experience of at least 5 years working with internal suppliers in the purchasing department
Minimum 3 years' experience working with external suppliers in the EU, APAC, and US area
E-commerce experience is a major advantage
Proven experience in managing a portfolio of multi-product categories
Knowledgeable and passionate about new product trends
Advanced level knowledge of English, knowledge of other languages of international circulation is an advantage
Strong understanding of the market conditions and trends
Working knowledge of negotiation techniques in the industry
Strong planning and organizational skills
Exceptional interpersonal and social skills to build a good rapport
Excellent verbal and written communication skills
Great team player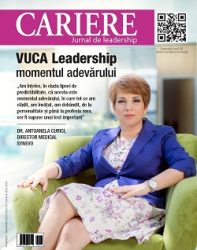 CARIERE nr. 269 - noiembrie-decembrie 2020
Citește-te acum