Descriere
Our Client's mission is to help people make reasonable choices about their health, offering comprehensive solutions based on advanced technologies and longstanding experience of professionals from all over the world.
They love to achieve this by working in collaboration with specialists in the wellness industrie from around the world in order to create top-quality and innovative products for health-minded people.
Requirements:
Experience in a management position, preferable with international exposure;
Experience in wellness area, nutrition, supplements promoting and distribution or related area;
Full Professional Proficiency of English;
Management skills, manage end-to-end country operations with ecommerce sales, distribution, sales & product promotion;
Change Management: agile and fast adaptation to Group vision according to local needs and the fast changing market;
Commercial savviness: demonstrate success in managing a P&L with pre-determined KPIs;
Client Relationships: pleasant presence, effective communication and negotiation;
Excellent Networking Skills and Leadership, demonstrate people management.
Responsibilities  (focus on the results is the main goal):
Identify resources and creating efficient strategies for Distribution and Promotion Division;
Supervise all programs implementation, monitor all promotional and distribution activities of our premium supplements;
Oversee the budget, reporting activities, planning and calculation of the required resources fordelivering the projects upon schedules.
Daily contact with clients;
Inspire, motivate and coach the Team;
Collaborate on Global level with international departments;
Participatein the recruitment process and staff training;
Assess the effectiveness of the company in the wellnes market;
Aligncountry specifics to the Group's vision and strategy;
Implementregular management tools;
Assure the permanent development;
Review operational policies andprocedures;
Share with the team, in an accessible manner, how company values can influencethe market for win-win benefits.
Company offers real challenges, a lot of work, motivating compensation and benefits package and good career development possibilities.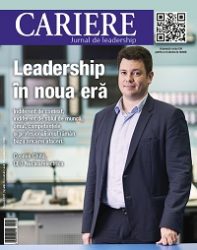 CARIERE, no.273. August 2021
Citește-te acum