Descriere
For a top multinational company we are currently recruiting Customs Specialists to join a newly created department.
Role Purpose
Facilitate the day to day operational activities for the import and export activities in assigned geographical area to secure operational excellence and maximize compliance.
Key Responsibilities
Daily handling of information and documents to or from other company`s units, external service providers and authorities to ensure timely, accurate and compliant in bond, declaration/entry and release from authorities for imports and exports.
Secure customs relevant data and documents are available on time to secure timely release of imports and exports. Secure they are properly distributed, filed and archived according to import and export requirements of assigned country or region and company business needs. This includes issuance and maintenance of certificates of origin, free trade agreement (FTA) documents, exporter certificates, licenses, attestations, etc.
Maintain relevant master data for assigned country or region necessary to secure timely and compliant declaration filings with authorities.
Declaration/Entry preparation for transmission of declaration/entry data to either customs authorities or an external service provider depending on local country set up. Applies for imports and exports within assigned region or country.
Secure compliance in every customs declaration. Identify, perform analysis, investigations and act as necessary to resolve inaccuracies and deviations to ensure declaration/entry compliance and timely clearance. Secure resolution where compliance or operational standards are not met.
Contribute to constant awareness of the customs operational processes, data, documents and requirements. Use awareness to continuously evaluate current ways of working, identify control weaknesses, contribute and take initiative for constant development of operational efficiencies, recommending solution enhancements and implementing improvements together with local team, regional COSC and ISAG.
Responsible for updating desk top standard operation procedures/working routines for your assigned tasks, region and/or country.
Maintain competence and knowledge regarding customs regulatory rules and legislation, import/export industry knowledge, goods flow and customs systems/solutions for assigned region or country.
Support other tasks and projects as assigned and related to service provider performance, a standard KPI's, processing claims, solution projects, audit requests, etc.
What are we looking for?
Previous experience on a similar role;
University Graduate;
Excellent Command of English;
Excellent use of Excel, Word, Power Point;
Proactive, high ethical standards, passion and energy for continuous improvement;
Self-motivated and results oriented with excellent ability to organize, plan and implement own work;
Good social and communication  skills, passionate by your job;
Keen on self-development, good sense of humor;
What's in it for YOU?
Salary level correlated with experience, plus various company benefits;
The chance of a long term career in a stable international company.
Interested? Feel free to send us your CV to: contact [at] peoplehunters.net
Thank you for your interest!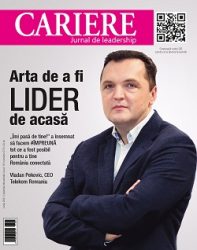 CARIERE no. 272, iunie 2021
Citește-te acum