Descriere
For our partner, a software company that offers a wide range of technologies and services in the field of cyber-security, we are looking for a Cyber Security Architect.
In this role, as a Security Architect will be responsible for advising clients on complex security architecture, analyzing the research, and feedback on situational compliance with security frameworks or best practices.
Responsibilities
Leads and participates in the design and architecture of cyber-related information data storage, manipulation, and retrieval.
Leads efforts in identifying, prioritizing, and coordinating critical cyber defense infrastructure and key resources.
Identify functional and security-related features to recommend opportunities for new capability development.
Create and present presentations for client meetings when required.
Support the Compliance and Security Operations Teams operations in client meetings, research, and tasks designated through the project management cycle.
Mentor/Advise clients and internal analysts on technical solutions (systems, networks, databases, applications, clouds, etc.)
Perform technical tasks to support mentoring, advisory and internal learning capabilities.
Assist in the performance of application pen tests, pen tests, vulnerability scans, PCI scans, risk assessments, reviews, and attestations.
Engage in and host client meetings to review deliverables, discuss requests and expectations, and provide support.
Perform project management and coordination tasks to facilitate overall project delivery.
Requirements
A bachelor's or associate degree in IT, computer science, or related field.
Minimum 8 years of information security experience
Strong understanding of security assurance methodologies and technologies, such as secure coding standards, static and dynamic security testing, and secure software development lifecycles.
Strong working knowledge of current IT risks, security implementations, and computer operating and software programs.
Security considerations of cloud computing, including data breaches, hacking, account hijacking, malicious insiders, third parties, authentication, APTs, data loss, and DoS attacks.
An understanding of the impact of emerging business and end-user technologies on information security requirements and architecture.
Strong decision-making capabilities, with a proven ability to weigh the relative costs and benefits of potential actions and identify the most appropriate one.
Strong interpersonal skills, with an emphasis on the ability to effectively influence others.
A team-focused mentality with the proven ability to work effectively with diverse stakeholders.
If this sounds interesting for you, please apply at https://recrutare.evolvetoday.ro/jobs/1233423-cyber-security-architect or send your resume at andre[email protected] and let's chat!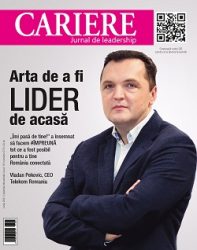 CARIERE no. 272, iunie 2021
Citește-te acum