Description
For our business partner, a software company that developed the first AI department for Call and Contact Center industry together with an out-of-the-box telephony platform (ticketing, workforce management, video inspector, chat bots, we are looking for a highly capable Data Scientist to deliver that insight to us on a daily basis. Our ideal team member will have the mathematical and statistical expertise you'd expect, but a natural curiosity and creative mind that's not so easy to find.
As you mine, interpret, and clean our data, we will rely on you to ask questions, connect the dots, and uncover opportunities that lie hidden within—all with the ultimate goal of realizing the data's full potential. You will join a team of data specialists, but will "slice and dice" data using your own methods, creating new visions for the future.
Responsibilities
Responsible for analyzing, building, and optimizing the data infrastructure and data pipeline.
Support the design of conceptual and logical data models and flowcharts.
Identify ways to improve data reliability, efficiency, and quality.
Extend existing ML libraries and frameworks
Keep abreast of developments in the field
Requirements
At least 3+ years of professional experience in data science, doing exploratory data analysis, testing hypotheses, and building different types of models.
A strong background in advanced mathematics, probability theory and statistics, and data mining
Experience with one or more libraries like PyTorch, TensorFlow, ML.NET, scikit-learn, etc.
Working experience with NLP and NLU.
Proactive mindset, willingness to take initiative, and work with little supervision.
Enthusiasm to collaborate with different roles in product, analytics, and engineering to identify problems and explore trends.
Strong verbal and written communication skills.
Proficiency in English.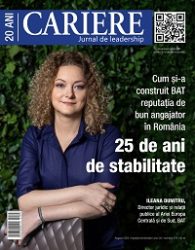 REVISTA CARIERE, NO. 279, AUGUST 2022
CITESTE