Descriere
For our business partner, we are looking for a passionate and driven Senior  DevOps Engineer to supports the team to fully leverage the digital architecture and Continuous Integration / Continuous Deployment development pipeline.
Our partner is the latest initiative of a top Romanian company with almost 20 years of presence on the market which aims to build a software ecosystem for modern eCommerce from scratch based on the principles of people's natural behavior of exploration, discovery, and adventure.
Subsequently, the entire technological design will form the basis of their eCommerce store based on gamification, Artificial Intelligence, and predictive analysis.
Central location: Nearby University subway station
Work at the Office & remote
Responsibilities
Assist in creating a tailor-made architecture.
Participate in strategic project-planning meetings, to provide guidance and expertise on system options, risk, impact, and costs vs. benefits, to create and share operational requirements and development forecasts to allow for timely and accurate planning of projects.
Install and configure solutions, implement reusable components, translate technical requirements, assist with all stages of test data, and perform script maintenance and updates
Build automated deployments using configuration management technology;
Deploy new modules and upgrades and complete fixes within the production environment
Make modules ready for production, which entails moving them according to specific procedures and documenting knowledge transfer
Create routine application maintenance tasks, troubleshoot existing information systems for errors, and resolve those errors
Permanently evaluate existing applications and platforms and give recommendations for enhancing performance via gap analysis, identifying the most practical alternative solutions, and assisting with modifications
Requirements
Bachelor's degrees in computer science or computer engineering
3+ years of experience in a similar role
Automation experience with at least one configuration/deployment management system such as Terraform, Puppet, Ansible, or other such tools
Experience working with container technology (Docker, Kubernetes)
Good knowledge of at least one cloud platform (GCP, AWS, Azure)
Experience in cloud costs optimizations
Experience with monitoring and alerting technologies (Grafana, Prometheus, Zabbix, or other such tools).
Working-level proficiency in scripting languages
Proficient in leveraging CI and CD tools to automate testing and deployment.
Experience working in Agile fast-paced, DevOps environment
Proficient in scripting and Git workflows
Excellent oral and written communication skills with a keen sense of customer service
Excellent problem-solving and troubleshooting skills
Process-oriented with great documentation skills
Knowledge of best practices and IT operations in an always-up, always-available service
Represent an advantage:
Experience working with at least one of the following languages: Node.js, Python, PHP, Ruby, or Java
Experienced with Google Cloud Platform
Relevant experience in the field of eCommerce.
Good knowledge of security protocols and best security practices
What We Offer
It starts from scratch, the team decides the functionality of the platform, how the code will be written, how the components interact, the data format, and the processing flow. There are no restrictions on existing functionalities, previous architectures, data in outdated formats. Everything is new, modern.
You benefit from the collaboration with a team of software architects and highly experienced managers, who have gone through all the positions related to software development in their careers and understand the needs and dynamics of the technical teams.
You are an active participant with a say, you can make a difference by changing today's online commerce market.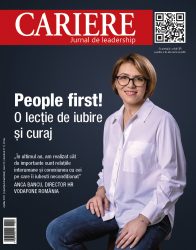 CARIERE no. 271, aprilie 2021
Citește-te acum