Descriere
Apply Now: [email protected]
www.qlt.ro
Our client is an UK digital agency, they help big organizations launch bold new ideas. Whether it's launching global automotive propositions or a new Virgin brand they are always doing something new and exciting.
We are looking for a Digital Business Analyst / PM with experience working on digital product and marketing projects to join our growing team in Bucharest.
Skills required:
Experience in similar positions and preferably in a digital or marketing agency;
Skills in the area of digital marketing and in project implementation;
Analytical and marketing skills, ability to understand digital problems and express the complexity of them in clear terms to technical and non-technical stakeholders;
Ability to take the initiative, be assertive and think strategically;
Ability to deliver quality in a fast paced environment;
Aptitude for multi-tasking, working to emerging & tight timelines;
Excellent organizational, verbal and written communication skills both in Romanian and English;
Capable of prioritizing and managing your own workload;
Quality focus and attention to detail;
Able to travel to client sites (within Europe) for up to 5 days per month.
Key responsibilities:
Takes semi-technical digital requirements from business stakeholders in meetings;
Turns these into requirements in our work tracking software (Asana) and structure them properly;
Meets with the digital team (designers, UX, developers, digital marketers) and plans for how long we expect each part to take;
Estimates the number of days it will take each team member and provides this to the accounting team at the end of the month;
Makes weekly progress calls with the team to ensure things are on track and if not reports to executive team;
Produces update presentations, reports for clients on a weekly basis.
Benefits:
Competitive salary;
Flexible working hours;
Access to training materials and courses required to grow your skills;
All expenses paid team events.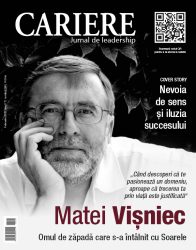 CARIERE, no. 264, februarie 2020
Citește-te acum