Descriere
For one of out top clients, leader company in its field, we are recruiting a Digital Marketing Manager Spanish&English speaker. The role is based in Bucharest in a central office location and will cover Spain digital marketing area.
Mastering Spanish language is a must for this role.
Key Responsibilities
•   Provide continuous improvements to organic search results through SEO techniques in coordination with content and structure of websites, landing pages, and other web pages;
•   Actively manage all PPC and PPM campaigns across search engines and social media with the objective of improving all relevant metrics (conversion rates, cost of acquisition etc.);
•   Create and modify ads for search engine and social media while keeping an eye on conversion rated and acquisition cost;
•   Identify and recruit new affiliates, monitor performance of existing affiliates, and provide sale incentives to encourage improvement in performance;
•   Provide recommendations on the weekly/monthly digital marketing budget spend by taking into account key metrics such as conversion rates and cost of acquisition across customer segments, campaigns, and digital marketing channels;
•   Track competitor activities and performance on digital marketing and provide recommendations on what we can do better;
•   Provide recommendations on the website homepage and application which could improve our conversion rates;
Your Profile
•   Relevant experience working in a digital marketing agency or e-commerce company, digital marketing team of a Bank / IFN or other international top company;
•   Education – Bachelors or Master's Degree in Marketing or Business related;
•   Advance Excel Skills;
•   Excellent verbal and written communication skills (Spanish & English).
What's in it for YOU?
•   Motivating salary depending on experience and skillset;
•   Very attractive performance based bonus package;
•   Medical coverage package and other benefits;
•   Professional development through participation in international conferences and seminars on digital marketing.
Please note that only the candidates fitting the criteria will be contacted.
Interested? Send us your CV to [email protected]

Thank you for your interest!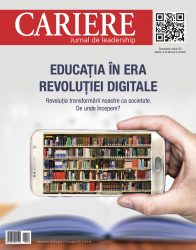 Cariere nr. 250, sep 2018
Citește-te acum