Descriere
- Live market audit management (structure, development, implementation and reporting) Serves as point of contact for consumer engagements validity audit for all in market key business projects related to DTC, implemented thru 3rd party supplier under his/her management. Coordinates discussion between all project stakeholders, business and market teams to implement activities accordingly, validate results / kps's per project and report in the project team.
- Consumer CRM Data Governance and Modelling. Support the business team in maintaining consumer data validity, structure and management in line with aligned business objectives and future CRM solutions. Assist to coordinate blueprinting initiatives scheduled with all business stakeholders. Contributes with her/his current analyst knowledge to discussions and steers certain discussions, proposes and builds viable and relevant analysis models with the support of 3rd party suppliers and in collaboration with the DTC relevant stakeholders.
- Consumer CRM Data Strategy. Closely collaborate with the DTC (Digital and 121 teams) and IT in defining the optimum strategies approach to consumer data usage, future requirements and data collection to enable delivery of business objectives. Act as an ambassador of the consumer CRM / DTC ecosystem and actively promote across market its business potential and future opportunities in relation to RTC.
- Insights and Best Practice Sharing for Consumer Engagement RTC. Closely collaborate with the Digital Engagement Manager and 121 team for building expertise and insight thru data hypothesis testing and insights generation. Consolidates with the DTC and its supplier's best practice and report and actionable solutions for business challenges aligned to marketing objectives for RTC. When required tests and validate reports with BDS team and brand management.
- Consumer Data Compliance. Support DPO as single point of contact for all consumers data ecosystem. Provides reports and data In line with authority's requests and aligned accordingly with all the other Marketing, Sales & Trade Marketing Capabilities, Legal and IT as well as working with different teams across market, region and HQ, as requested. Closely collaborate with the direct management team members on this line of matters.
Cerinte:
- University degree
- Minimum 3 - 5 years professional related experience (similar role, marketing research, business analyst, etc.)
- Knowledge of data audit practices and management, including data modelling, data blending and digital insight generation;
- Understanding of CRM and Bl Initiatives, industry benchmarks, key success factors/risks and IT business requirements; Strategies Awareness;
- Understanding route to consumer, segmentation capabilities as well as brand activities objectives;
- Business oriented and focused on achieving results;
- Very good organization and prioritization skills;
- Used to interpreting data and bringing added value insights;
- Strong analytical and communication skills;
- Strong problem solving, organizational and analytical skills;
- Demonstrate professional maturity and ability to act as a business decision professional;
- Team spirit, positive attitude, constructive, ready to listen the others' opinions and to cooperate for finding the best solution for the business;
- Project Management and 3rd Parties Management;
- Advanced presentation skills;
- High Interpersonal skills;
- Excellent English.
Oferta:
EF CODE: EDA_lk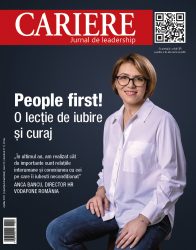 CARIERE no. 271, aprilie 2021
Citește-te acum