Descriere
For our client, a shared services center that offers financial services for a project management company, we are looking for an Expense Reports Agent with French. The company offers fully professional services in a wide variety of industries, from mining & metallurgy, oil & gas, environment & water to infrastructure and clean power.
Responsibilities:
Performing escalation tasks, ensuring that the audit follows the procedure;
Responding promptly to all internal or external customer requests by phone or email;
Adding requests to the ticketing system;
Running different regular reports for direct manager instructions;
Maintaining a high level of knowledge management / update standard operating procedures;
Providing training to new comers and ensuring an efficient back-up structure;
Identifying areas for the process / system improvement and proposing development initiatives;
Creating a strong relationship with organisation's internal customers.
Requirements:
Would be preferred academic background in Economics/Finance/Accounting;
Very good knowledge of French (at least B1 level);
Good knowledge of English (B1 level);
Good knowledge of Microsoft Office Suite;
Able to efficiently manage time, set priorities and complete multiple tasks simultaneously;
Results oriented and a team player;
Strong deep analytical and problem-solving skills.
Benefits:
Direct contract with the employer;
Competitive salary and flexible motivating benefits;
Team activities, Team Building, Fun @ Work;
Wellness programs for employees – fresh fruits, free coffee and tea, chair massage, employee wellness room;
Training and Development Program, Career Opportunities;
CSR and sport activities;
Open and dynamic environment;
Flexible work schedule organized in shifts: Monday to Friday: 09:00 – 18:00, 10:00 – 19:00 and 13:00 – 22:00.
*3 mandatory shifts of evening work per month with the possibility of a maximum of 10 shifts of evening work per month (premium from the 4th shift of evening work).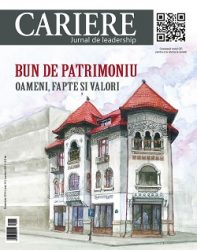 CARIERE no. 262, nov. 2019
Citește-te acum