Descriere
Our client is a global Business Process Management leader.
The company delivers an entire spectrum of BPM services in customer interaction services, finance and accounting, human resource, research and analytics, technology solutions and industry-specific processes. More than 35,000 employees serve across 53 delivery centers.
Job description:
• Organize and execute multiple financial administrative workflows (including across international offices) as in charge person for each entity;
• Responsible for preparing necessary journal entries for accounts payables invoices, payroll and expense forms;
• Responsible for processing bank statements, credit cards and petty cash;
• Responsible for processing and reconciliation of fixed assets and depreciation;
• Ensure that reports are reconciled to ledger balances and all designated accounts are under control and movements explained;
• Carry out general ledger quality control;
• Assist in monthly balance sheet reviews which are internally performed on groups locations;
• Support the development of policies, controls and business processes;
• Work together with statutory/external accountants to reconcile Group accounts to local accounts;
• Offer support in assisting external auditors during interim and final audit;
• Providing proactive, cross-functional support between finance, HR, administrative and operations staff;
• Be a dependable resource to the Chief Accountant, Controller and to global colleagues across international offices while taking an active role within special projects, as required;
• Manage the statutory process for legal entities, supporting draft preparation of annual closing, identification and reporting of adjustments required;
• Preparation of statutory review in order to align the management and statutory reporting;
• Review USGAAP accounts, monitor and analyze P&L and Balance sheet transactions and ensure their correctness; deal with eventual discrepancies; review and confirm the overall correctness of P&L and BS statements;
• Preparation and provide clear and understandable flux commentaries on Balance Sheet movements
• Statutory External support;
• Actively support new system implementation; process standardization and improvements;
• Maintenance of fixed assets register;
• Support on monthly VAT reporting review and related supporting documentation electronic archiving process.
Cerinte:
• A minimum of 3 years' finance and accounting experience in a multinational context;
• Good knowledge of accounting principles, tax legislation and operational processes;
• Relevant experience working with accounting software platforms and related processes;
• Meticulousness, analytical and attentiveness to detail;
• Good command of English Language (Level C1 is a must);
• Experience of SAP FI systems preferable;
• Proficiency in Excel, Word, Outlook, PowerPoint;
• Proactive in solving day to day issues;
• Ability to pick up new tasks quickly;
• Good communication and development skills;
• Ability to work independently and proactively in an international team;
• Drive for results, with focus on timely and complete delivery;
• Flexible: able to work autonomously, but also to cooperate with multiple teams;
• Enthusiastic, self-motivated individual with excellent communication skills.
Oferta:
Benefits:
• Bonuses for your results;
• A great office, a friendly atmosphere and a multinational environment - Teambuilding and Christmas party;
• Wide range of development and training options (including soft skills and language courses);
• Free coffee and fruits to keep you energized;
• Medical coverage;
• Bookster.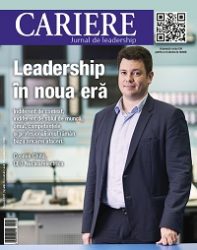 CARIERE, no.273. August 2021
Citește-te acum