Descriere
Job Description
Obtain and verify, partially or totally periodic financial reports (monthly, quarterly, annual) for management (i.e. Balance Sheet, Accounting Notes, Income Statement, Cash Flow, Master Report, etc.) using standard systems and procedures for financial reporting;
Perform reporting activities at entity level (closing the IFRS trail balance, prepare monthly reports, provide information to internal/external auditors etc.)
Participate in elaborating the monthly, quarterly and annual Financial Statements prepared in accordance with the International Financial Reporting Standards;
Perform intercompany reconciliation and other IFRS adjustments (e.g. Deferred tax computation);
Prepare and verify reports and statements required by the financial and operational management of the Company, as: treasury reports (cash flow reports), monetary position, tax reports, breakdown expenses, and other ad-hoc reports.
Job Requirements
Bachelor Degree in Economics (Accounting/ Finance preferred); Additional qualifications related to the job would be considered a valuable asset (ACCA, CertIFR, DipIFR etc.);
Minimum 2 - 3 years' experience in financial analysis/controlling/external audit;
Knowledge and ability to use the International Financial Reporting Standards and Romanian Accounting Standards;
Ability to generate, interpret, easily understand and translate the Financial Statements of a company (Balance Sheets, Statements of Income, Statements of Cash Flow, and the accompanying notes thereafter) into relevant business information in order to take the appropriate decisions;
Good communication skills;
Capable to operate under pressure;
Very good command of English language;
Advanced Excel knowledge; SAP experience is a plus.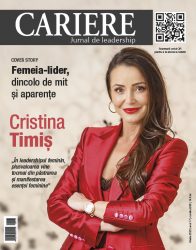 CARIERE no. 265, martie 2020
Citește-te acum