Descriere
The FMCG Account manager works for a business we are very proud of: our Household Panel. Joining the team that works with top food manufacturers, drinks companies and leading retailers, you will help design research to solve real business problems. You will be responsible with making significant contributions to proposals and delivering actionable insights to clients.
We believe in being a trusted source of information and actions for our clients!
We are looking for…. a team player, an analytical mind and a confident communicator, keen to work in a stable team with a friendly, bunch of like-minded colleagues!
You should have:
• University degree in Marketing or Sociology;
• Experience at least 3 years' experience in a similar position will be an advantage, experience in the FMCG sector would be a plus;
• Client service oriented profile with great analytical skills;
• Relevant sales experience;
• Great numerical skills with an attention to details;
• Good communication and presentation skills;
• Excellent knowledge of MSOffice, in particular Excel and Power Point;
• A dynamic and adaptive personality;
• Excellent English – both written and spoken.
Because you will:
• Maintain and develop an excellent relationship with our existing clients
• Develop the client portfolio, identifying potential business opportunities;
• Prepare the client proposal and contract negotiations;
• Be in charge of Market data analysis, interpretation and recommendations; deliver the market research report followed by presentation of main conclusions and recommendations;
• Represent the company at different events and conferences in Romania.
We offer:
• A great team, a very nice and open working environment, learning and growing opportunities;
• A net salary between 4000/5000 lei net, depending on your experience, knowledge and skills plus other benefits.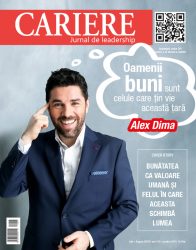 CARIERE no. 259, iulie-august 2019
Citește-te acum