Descriere
We are looking for a highly motivated Technical Leader who is proficient with JavaScript and Node.js and is passionate about leadership, web development, to contribute to the production of high-quality products in a competitive market of e-commerce and cloud.
Our business partner is a start-up with 100% Romanian capital, with a unique offline infrastructure and a software ecosystem for modern online commerce, based on the natural behavioral principles of people of exploration, discovery, and adventure.
You will emphasize on managing a development team over the life cycle from product spec to design, development, testing, and deployment following the Agile methodology.
Central location: Nearby University subway station,
Work at the Office & remote
Responsibilities:
Leading teams of more than 6 members, propose technical solutions and evaluate teamwork, to develop applications in an eCommerce software ecosystem(marketplace, web sites, etc).
Being a technical point of contact for the project, responsible for providing day to day technical leadership to the team, from specifications and implementation to evolutionary production and maintenance.
Determine and provide estimates for development tasks that cover a wide range of functionalities, with complex technological needs, some of which are cutting-edge: from user profiling and artificial intelligence to video streaming and Big Data.
Mentoring and contributing to the growth of the company through a successful team and be a role model for best practices in technical development
Additional desired functionality is the management of marketing campaigns.
Requirements:
Degree in Science, Engineering, or IT graduate degree preferred.
At 2+ years of previous experience as a technical leader
JavaScript, HTML5, NodeJS experience of at least 5 years
At least 5+ years of full stack experience with implementations using REST API.
Experience analyzing significant business problems and designing successful IT solutions
Knowledge of Golang, Rust, Python, Scale is an advantage.
Experience with the implementation of the above elements specific to Google Cloud is appreciated as a plus.
The previous implementation of at least one online payment system – is appreciated as a plus.
Permanent availability for code review as a necessary part of the development process, and for peer programming.
Advanced security knowledge and correct website implementation techniques to respond to the most current threats according to OWASP.
Critical thinking, oriented to solve problems, to optimize performance.
Ability and willingness to communicate expressively, clearly, to be unequivocally understood by team members.
What We Offer
Involvement in the development of a new eCommerce concept, completely realized in Romania, by a start-up supported with an exclusively Romanian investment.
It starts from scratch, the team decides the functionality of the platform, how the code will be written, how the components interact, the data format, and the processing flow. There are no restrictions on existing functionalities, previous architectures, data in outdated formats. Everything is new, modern.
You benefit from the collaboration with a team of software architects and highly experienced managers, who have gone through all the positions related to software development in their careers and understand the needs and dynamics of the technical teams.
You are an active participant with a say, you can make a difference by changing today's online commerce market.
The career development plan, which includes continuous personal development through courses and exams.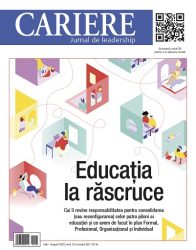 CARIERE, no. 267, august 2020
Citește-te acum