Descriere
Europe's leading provider of industrial machinery installation and equipment relocation services.
Requirements:
Relevant engineering qualification electro-mechanical, industrial (MBA would be an advantage).
Experience working for international companies;
Relevant experience selling B2B engineering and industrial services;
Understanding of mechanical engineering/installation projects.
Commitment, drive and the ability to work together with other colleagues to achieve business outcomes.
Strong written and verbal communication skills in English.
Experience of driving results through teams.
Driving license.
Attending business trips.
Responsibilities:
Provides strategic guidance to the organization by assisting the Management Director with development of long range business and sales development plans, with the evaluation and reporting of progress on plans.
Responsible for forecasting revenue and profit for future months.
Leadership Skills (sales, operations, admin, cca. 22) and team development .
Manage key accounts and longstanding customer partnerships.
Work closely with the engineering team to develop sales prospects into real opportunities.
Maintain and promote a positive, professional image of the company in all interactions and by adherence to all internal policies and all Safety, Health and Environmental policies.
Offer:
Salary 2400 euro net and benefits;
Annual bonus.
Necessary logistics.
Contact: [email protected]
www.qlt.ro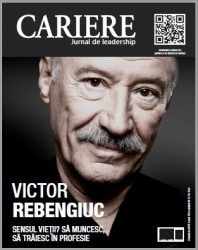 CARIERE no. 261, octombrie 2019
Citește-te acum