Descriere
I am looking for a self-motivated and results-driven General Manager to set up and manage the organization's Romanian business activities and to develop and implement effective local business strategies and programs.
Duties for the General Manager will include:
Allocating budget resources;
Formulating policies;
Coordinating business operations;
Recruitment, monitoring, training and motivating staff;
Managing operational costs;
Ensuring good customer service;
Implementing administration processes;
Engaging with vendors;
Business Development;
Monitoring financial activities.
Her/his entrepreneurial spirit and vision in directing business functions will assist our organization in setting up a Romanian branch office, maintaining relationships with clients, generating new business, increasing staff productivity, improving service, ensuring sustainability, and meeting business objectives.
The successful candidate for this role should possess of excellent communication skills, superior knowledge of business functions and IT, exceptional knowledge budgeting and finance skills, strong leadership qualities and at least 5 years of proven experience in a management function in the professional services market.
The noteworthy General Manager should account for all business activities, support staff development, enhance efficiency, drive marketing & sales, maintain relationships with clients, enhance the organization's image, and meet overall growth objectives of the new company.
We offer:
 Know-how transfer from the mother company;
 Freedom to start a business from zero and to create a team;
 Support and a very nice team to work with;
 4000/5000 euros net salary plus benefits.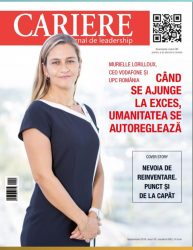 CARIERE no. 260, septembrie 2019
Citește-te acum