Descriere
For our business partner, the latest initiatives of a top Romanian company with almost 20 years of presence on the market which aims to build a software ecosystem for modern eCommerce from scratch based on the principles of people's natural behavior of exploration, discovery,  we are looking for Golang Developer, to be part of a great transport ERP and Ecommerce development teams, and to work on new and exciting projects.
Benefits:
Exciting projects developed from scratch using the newest technologies: Node.JS, .NET Core, Golang, React.JS, microservices architecture, AI, Machine Learning, Streaming.
Flexible working schedule and work from home.
Private medical services subscription
Meal tickets
Responsibilities:
Take part in the architectural design and implementation of several high availabilities, scalable and performance-driven services with security in mind.
Continuously improve your knowledge and the services handled by the team as a result.
Review code and provide constructive feedback, write tests, and collaborate with team members to ensure high-quality products.
Proactive attitude in PoC delivery and researching emerging technologies.
Requirements:
At least 3+ years of experience in software development
Desired stack: Golang (or relevant experience in concurrent programming/backend development and desire to learn), relational databases (pref PostgreSQL), in-memory databases, NoSQL
Experience developing REST APIs.
Understanding of relational databases and SQL
Understanding concurrent programming, common data structures, composition
Knowledge of common security risks and mitigation techniques
Version control systems and multiple environments
Basic Linux knowledge
Analytical thinking
Nice to have:
Experience developing  eCommerce tools and microservices oriented architecture
Experience with message queue systems (RabbitMQ, Beanstalk) and also Kafka
Familiarity with in-memory data stores (Redis, Memcached)
Benchmarking, load, and stress testing
Experience with CI / CD procedures and tools
Database management tools (Percona toolkit)
Monitoring and logging (Grafana, ELK, Graphite, stated, NewRelic, Sentry)
Server management, cloud DevOps (preferably Google)
Understanding Agile development with Scrum and Kanban
Keywords: Golang, MySQL, PostgreSQL, RabbitMQ, Beanstalk, AMQP, Queue, Kafka, Pub/Sub, Redis, Memcached, ElasticSearch, Docker, CI/CD, Scrum, Ecommerce
If this sounds interesting for you please apply at https://recrutare.evolvetoday.ro/jobs/1200168-golang-developer or send your resume at [email protected]
Alte joburi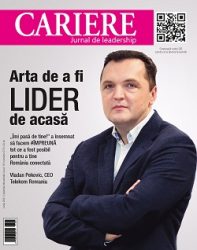 CARIERE no. 272, iunie 2021
Citește-te acum