Description
Our Client is an IT Company part of a global leading marketing agency group. Through a strong foundation in strategy, data science, technology and creativity, the agency helps transform businesses by helping brands grow meaningful relationships with people. It does so by working with some of the worlds' strongest brands, Fortune 500 caliber. The agency was named a "Best Workplaces for Innovators" by Fast Company, B2B Agency of the Year from the Association of National Advertisers (ANA), a four-years-and-counting run as Gartner "Leader" in Global Marketing Agencies Magic Quadrant from 2017-2020 and a number of other prestigious prizes, being part of the publicly listed Interpublic Group (NYSE: IPG), with 35-plus offices across North America, Latin America, Europe, the Middle East and Asia Pacific.
This Human Resources Manager role is both a strategic and hands-on role that provides full cycle Human Resources support to the local Bucharest office (IT Company) of our Client, a global marketing agency leader in its field. The role is critical in driving HR excellence and process improvement.
Main responsibilities include:
· Partnering with management and the global HR team to create and implement the human resources strategy, HR policies and standards with accountability for: Retention, Recruitment, Brand Awareness, Training/Development, Reporting, ATS + Systems, Performance Management, HR Policy and Process, Internships, Legal matters, Employment contracts;
· Guiding and supporting hiring managers in order to drive a high engagement and high performing environment, help build competency frameworks and career paths for each discipline;
· Leadership: provide guidance when needed; Ownership for the following processes/areas:
· Recruitment: manage the recruitment and selection process;
· Performance Management: manage local review cycle, coordinate delivery of reviews and proposes methods of process improvement;
· Employee Relations: primary point of contact and adviser to all local employees in regards to people policies. You will also be responsible to undertake all necessary steps in order to ensure that harmonious relationships and effective communication is maintained between management and the team;
· C&B: coordinate compensation and benefits analysis projects and support annual compensation planning process, coordinate benefits enrolment, approve benefits through company's expense reimbursement system;
· L&D: manage training requests, coordinate local internal training sessions, support development initiatives and owns the training budget (budget is subject to CFO and Sr. Finance Manager approval and potential adjustments to budget throughout the year);
· Culture implementation: creates strategy to implement company culture & ensure all organization is aligned to core values;
· HR Administration: work closely with the Office Manager, externalized payroll company and lawyers to ensure compliance with local statutory requirements; · Manage the department budgets and report status to the Leadership Team;
· DE&I: create and develop programs that support MRM's DE&I best practices.
Qualifications:
• Bachelor's degree or relevant experience;
• 5+ years' experience in Human Resources;
• Strong recruiting and demonstrated ability to improve talent acquisition strategies;
• Demonstrated expertise training managers and employees;
• Strong organizational, critical thinking and communications skills;
• Experience working within the high tech industry is strongly preferred;
• Attention to detail and good judgement.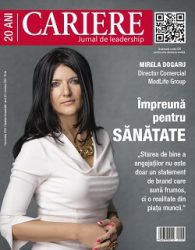 Revista CARIERE, no. 280, oct. 2022
CITESTE