Descriere
A well known company in Sibiu is looking for a Human Resources Manager with excellent leadership and HR business process knowledge and development. Location can be Sibiu or Târgu Mureș.
Job purpose
To guide and manage the overall activity of the Human Resources department, covering all aspects of HR & acting as Business Partner for the management team.
Essential Duties And Responsibilities
• Lead the HR department;
• Develop and execute the HR strategy in accordance to the company strategy;
• Manage key HR functions and local strategy in recruitment (both white & blue collars professionals), learning & development, personnel care, payroll and administration;
• Develop and implement HR personnel development processes and policies in order to meet the organization's HR objectives; deliver training needs assessment, develop & implement dual vocational system and a permanent development & training process for all employees;
• Act as a business partner for the local company management team and provide input on the HR matters;
• Brand Ambassador;
• Lead cross functional strategic change projects to improve organizational effectiveness and efficiency;
• Develop and drive performance management processes, tools, communications, and training programs;
• Provide leadership in the development of a sustainable high performance;
• Implement initiatives to drive and maintain a culture of excellent employee relations and communication;
• Ability to understand and align policies and practices to the company culture & values;
• Willingness to travel up to 30% mostly in Romania.
Skills/Experience
• Experience of leading/managing an HR team (functionally leads up to 4 HR colleagues);
• Ability to effectively communicate with various organization levels from workers to top management;
• Good networking skills /ability to create connections;
• Ability to connect HR actions with financial impacts;
• High level of change management understanding;
• High level of organizational skills, excellent communication and interpersonal skills;
• Analytical skills, strategic thinking, experience to create HR concepts;
• Flexible to travel in different regions of the country, where the company has branches;
• Ability to work both on a team and independently and drive positive employee relations;
• Strong work ethics, able to handle confidential information sensitively and with integrity.
Other requirements
• Bachelor's degree;
• Minimum 2-3 years experience in a related management positions;
• Good knowledge of the Romanian labor law;
• Very good knowledge of the human resources practices and processes;
• Analytical and problem solving skills;
• Good communication skills and ability to deal with people from different regions of the country & different cultures/personalities;
• English language fluent; German would be an advantage, but is not mandatory;
• Microsoft Office proficiency;
• Social Media comfortable;
• Willingness to travel up to 30% mostly in Romania.
We offer
• A highly competitive salary; a competitive working environment within a big but 100% family owned company with a high degree of direct responsibility;
• A diverse range of professional opportunities, business segments, projects and challenges;
• The opportunity to use the own professional skills and competences within a challenging environment and cultural integration;
• Company car.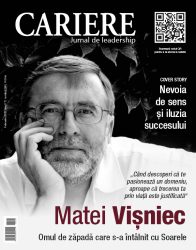 CARIERE, no. 264, februarie 2020
Citește-te acum