Descriere
For our business partner – one of the main windows and doors systems producers, we are looking for a Human  Resources Manager to manage the day-to-day operations of the human resource office of the company, as well as to create and implement the HR framework (human resources policies, procedures, and initiatives).
Our business partner has over 15 years' experience in the industry and it is present in markets such as France, Belgium, Italy, Hungary, Moldova, Romania, Switzerland, Greece, Canada.
To be successful in this role, you should have 5+ years' experience in the HR field in a company with more than 50 employees covering multiple areas of HR activity: recruitment, training & development, performance management, talent management, compensation & benefits, HR admin. Our ideal candidate combines excellent communication skills and empathy with a hands-on approach and problem-solving attitude.
Office: Ceptura – Prahova
THE MAIN RESPONSIBILITIES:
 Recruitment
Ensuring Recruitment activities are fully aligned with business strategy
Maintaining an aggressive recruitment effort to attract the best talent available for mid-management roles
Maintaining a constant in-flow of entry-level talent
Establishing a fulfilling Internship program to attract future potential
Revising existing Recruitment related policies and procedures
Training & Development
Creating an efficient Training & Development plan, considering the company's business targets and employees' performance reviews
Ensuring effective management of the T&D budget to cover critical needs (T&D budget is never enough for everyone!)
Emphasizing on-the-job and in house training instead of expensive external courses
Creating a massive coaching culture
Identifying high performers and high potentials – developing accelerated growth plans
Total Rewards
Reviewing and revising current Compensation & Benefits, including salaries, bonuses, and other rewards
Establishing a comprehensive salary mid-management and bonus plan
Tying bonus payout strictly to sales and business performance
Revising Reward-related policies & procedures
Automating Rewards processes and integrating with the central HRM platform
Establishing clear communication on current standings and targets – and correlation with salaries and bonuses
Retention
Retaining the best talent in the organization by providing a tailor-made monetary and nonmonetary reward
Measuring and increasing engagement
Maintaining a tolerable turnover rate
Establishing an exit interview practice to identify and measure retention pain points and risks
Performance Management
Ensuring individual performance targets are aligned with the company's annual business targets (pyramid structure)
Conducting mid-year and end-year performance reviews, actively involving Functional Management
Connecting annual (or bi-annual) salary review with the performance ratings
HR's Strategic Role – Business Partnering
Providing direct HR support to the main Business Units to help them achieve business targets
Establishing an HR culture as a support function
Conducting all HR services (Recruitment, Development, Performance Management, etc.) from one service point for each Business Unit
HR Administration
Setting up an Employee Database with employee profiles, service history, etc.
Ensuring all HR documentation is existent as per the local legislation and Company policies
Overseeing a documentation audit to maintain a quality documentation system
Ensuring preparation and signing of required documentation (contracts, amendments, Job Descriptions, orders, etc.)
Developing an electronic employee database
Establishing a proper reporting system, including attendance/timesheets, government compliance, and statistics
Putting in place a proper Disciplinary Policy/Procedure
Employee Relations and Internal Communications
Revising existing Company policies on Employee Relations
Ensuring a fair and balanced approach to conflicts in the workplace
Establishing an effective internal communication system (intranet/share point?)
Ensuring all employees are up-to-date with the current state of the business and developments
HR System Platform
Preparing Technical Requirements and managing the software development process for:

Recruitment
Performance Management
Career and Development Plan
Documentation
Testing and launching the HRM Platform
REQUIREMENTS:
5+ years' experience in an internal HR department, covering a large variety of human resources activities; previous experience in working with Sales teams is an advantage.
A bachelor's degree in an HR-related field
Good knowledge of Romanian labor laws
Good knowledge of Microsoft Office (Word, Excel, PowerPoint, Outlook)
Excellent communication and people skills
Good organizational skills with high attention to details
High level of confidentiality
Excellent communication skills
Strong organizational skills with a problem-solving attitude
Waiting for your resume at [email protected]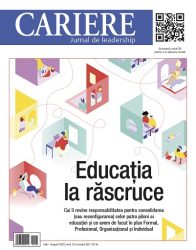 CARIERE, no. 267, august 2020
Citește-te acum