Descriere
For our client - an important international IT company that develops backup, disaster recovery and intelligent data management software for virtual, physical and multi-cloud infrastructures - we are looking for Inside Sales Support team members, fluent speakers of French and English!
Requirements:
Advanced English and French, exceptional verbal and written communications skills;
Research and analytical skills;
Experience working with a CRM system. Experience with Salesforce.com is desirable;
Ability to work independently in a fast-paced environment.
Responsibilities:
Handling sales leads and converting them to new business opportunities within the designated region;
Receiving and responding to sales leads and converting them to new business;
Maximizing coverage within the defined region and penetrating organizations with company's products;
Cold calling; Initiating telephone and email contact with potential prospects from developed web and lead generation lists;
Developing a solid working knowledge of company's software products and the benefits they provide to potential customers;
Providing support to qualified prospects and customers including follow up, product information, quotations and closures;
Updating and maintaining the company's CRM system.
CV and details: [email protected]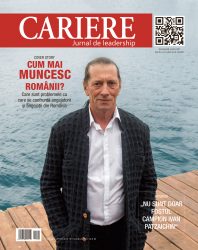 CARIERE no. 254, februarie 2019
Citește-te acum