Descriere
For our business partner, a well-known software company that provides infrastructure management on multiple clouds, application management, and DevOps Tools, we are looking a high-energy Account Executive to join their Sales Team who can recognize opportunities and turn leads into long-lasting partnerships.
The ideal candidate will be experienced preferably in SaaS companies, and customer service. We expect you to be a reliable professional, able to balance customer orientation and a results-driven approach.
Your overarching goal is to identify opportunities with prospects and new clients and build them into long-term profitable relationships.
Responsibilities:
Leading the entire sales process and closing accounts.
Designs develop and deliver sales proposals and presentations on product benefits.
Compiling and analyzing data to find trends.
Developing sales strategies and setting quotas.
Following up with prospects several times throughout the sales cycle to ensure needs are met.
Drive customer satisfaction through understanding customer needs, providing responsive service to customer issues, integrating partners into the sales process.
Building long-lasting, mutually beneficial relationships with external contacts and internal departments to create a better customer experience.
Requirements
Bachelor's degree in business, marketing, or related field.
At least 3 years experience as an Account Executive in B2B preferably in SaaS companies,
Knowledge of Software Development and DevOps industry trends is an advantage.
Ability to understand client needs and handle the negotiation process.
Strong time management skills.
Excellent verbal and written communication skills.
 Fluent in English
If this sounds interesting for you, please apply at https://recrutare.evolvetoday.ro/jobs/1200465-it-senior-account-executive-b2b
or send your resume at [email protected], and let's chat!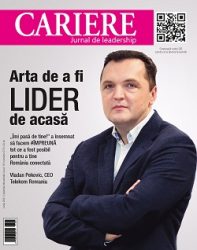 CARIERE no. 272, iunie 2021
Citește-te acum