Descriere
For our business partner, one of the leading service providers for commercial mobility in Europe, we are looking for a Front-end Developer. The teams responsible for the development of each product are contributing to making the transportation services not only efficient but also digital and sustainable.
Your primary focus will be on developing user interface components and implementing them following business requirements, using as well your innovative ideas.
In this role you will:
Cover with the team the entire development process, from specifications and implementation to production
Maintenance of existing applications as well as porting of these applications for cloud environments
Work on concepts and architectures based on current Java, JavaScript, and cloud technologies as well as on the further development of our software development processes
Ensuring all development work is carried out with a consistently high level of quality
Requirements:
At least 4 + years of experience as a Front-end developer
Proficient with JavaScript and a good understanding of its best practices
Advanced knowledge of Angular
Proven experience in Docker, CI/CD, Jenkins, GitLab
Experience with Unit Tests, A/B Tests
Willing to design
High motivation to learn and grow professionally
Nice to have:
Knowledge of jQuery, GWT, JSF
Experience with Java
Benefits:
Performance bonus – annual
Medical insurance
If it sounds interesting for you, please send your resume at
[email protected]
and let's chat!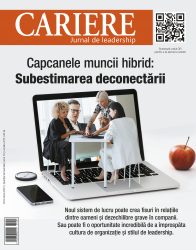 CARIERE, no.274, oct. 2021
Citește-te acum