Descriere
What we are looking for…
An experienced and passionate Finance Manager to join our Finance team. We will offer you a challenging and rewarding job opportunity in a fast moving, international and flexible environment.
What will make you a good fit for the role?
University degree in Accounting/ Finance; CECCAR certification will be considered an advantage
At least 3 years of working experience as Finance Manager or Head of Controlling
Solid and up to date knowledge of statutory accounting and fiscal legislation
Solid experience in team coordination and excellent people management skills
Previous experience in process optimization, ERP implementation or optimization
Excellent command of English
Advanced PC skills (SAP or any other ERP)
Strong communication skills
Drive, proactivity and a focus on continuous improvement ,International mindset, Critical thinking and problem-solving skills, Strategic Vision
Able to work effectively at all levels in an organization and a team player to work collaboratively with all levels
Acute business acumen and understanding of organizational issues and challenges
Key responsibilities:
Accounting/ Tax
Supervise tax compliance, including transfer pricing topics;
Manage the relationship with tax authorities and coordinate the internal and external financial audits;
Coordinate the preparation of National Financial Statements;
Forecasting / Planning
Coordinating/ leading preparation of rolling forecasts and annual budget and long range planning;
Coordinating data preparation for business reviews (Board and Performance meetings presentations);
Reporting/ Analysis
Managing regular reporting processes regarding OPEX and CAPEX;
Leading the preparation of monthly analysis/ KPIs related to Operations, with a special focus on product costing and profitability;
Tracking the deviations versus plan, discussing them with the budget owners and providing MD/ CFO with proposals for corective actions;
Providing ad-hoc analysis and forecasts on request;
Business Partnership
Offer support to other functions and teams on financial topics;
As member of the management team, participates in strategic planning and company development;
Others
Coordinate or contribute to group and local projects such as: ERP or other software implementation and optimization,  State Aid application and monitoring; Implementation of new business processes or country to country relocations, etc
What's in it for you? 
Attractive salary package;
Career development opportunities;
Exposure to international environment;
Integration program in a professional and dynamic team;
Opportunity to be involved in international projects;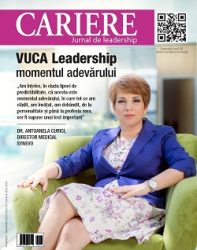 CARIERE nr. 269 - noiembrie-decembrie 2020
Citește-te acum