Descriere
A brand new Digital Hub located in Bucharest is hiring! Do you want to be a part of a worldwide team for the international leader in transactional solutions for corporates, employees and merchants? Let us, HR Gold, lead your steps by applying to the following opening: Junior Data Scientist in Bucharest.
Role description – Junior Data Scientist
Active member of HQ-based Data Science & Machine Learning center of expertise and personally contribute to major data-driven product creation. Responsibilities include:
- Respond Ad hoc requirements from Vendors ;
- Support DevOps in testing the Data Science Sandbox ;
- Take the current code to transform it into pipeline for pre-industrialization ;
- Support Business in testing the prototype.
Required Skills and Profile
Must have:
o BS/MS/. degree in Computer Science, Mathematics, Engineering, Physics or related;
o Work experience in international organisations as contributor;
o Participation in data driven products/services delivery (as contributor);
o Knowledge of Python;
o SQL query language;
o Experienced with Apache Spark (pySpark);
o Knowledge and practical experience in Machine Learning, Recommender Systems and Computational Advertising;
Understanding & practice of fundamental machine learning algorithms
Supervised Learning (Regression, Classification), Unsupervised (Clustering), Dimensionality Reduction, Model selection and optimization, Feature selection, Metric selection.
o Experienced in building test hypothesis and statistical methodology to design experiments and interpret the outcomes;
o Ability to communicate results and educate others through reports and presentations;
o Strong communication & interpersonal skills (ability to work in complex organizations);
o Fluency in English.
Nice to have:
o Experienced with R;
o Experienced with visualization tools and BI (Plotly, Shiny, PowerBI, etc.);
o Neural network and deep learning (TensorFlow, Keras, PyTorch);
o Experience with command-line scripting;
o Experience with Hadoop ecosystem and Spark;
o Data processing and computation frameworks: Kafka Streams, Storm, Spark, Flink, Beam, Akka, etc.;
o Experience of working with cluster computing and distributed systems;
o Cloud platforms: Azure, AWS or Google Cloud;
o Experience with creating segments, custom reports, goals in Google Analytics.
Benefits:
Competitive salary package, meal tickets, holiday vouchers, flexibility on working schedule, work from home, flexible benefits system, on-the-job training, working with the newest technologies, build from scratch the projects. Not only in Romania, but on international level.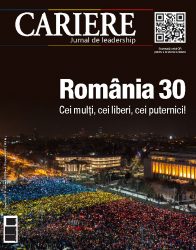 CARIERE no. 263, dec. 2019
Citește-te acum