Descriere
Apply Now: [email protected]
www.QLT.ro
Join an American company selling health and nutrition related Brand products, including vitamins, supplements, minerals, herbs, sports nutrition, diet, and energy products.
Requirements:
Minimum experience in a similar position is an advantage (sale OTC, para pharmaceutical products to pharmacy chains);
Knowledge related to biochemistry, nutritional supplements is an advantage;
Excellent negotiation and communication skills;
Car license B category, availability for trips;
Person oriented towards meeting the objectives.
Responsibilities:
Meeting monthly sales tasks and objectives;
Creation, development and maintenance of constructive relationships with pharmacies in the allocated area;
Supporting specific marketing activities, contract negotiations;
Visits to clients in the allocated area;
Respecting the work schedule and touring the plan;
Preparation of activity reports.
Benefits:
Motivational salary package (2500 lei fix + 1000-2000 lei bonus);
The necessary logistics offered by the company;
Bonuses depending on achievements.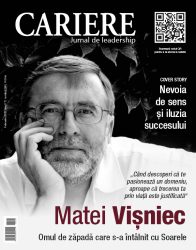 CARIERE, no. 264, februarie 2020
Citește-te acum