Descriere
We are looking for a self-motivated and enthusiastic Key Account executive for our business partner, an exclusive distributor of leading global manufacturers of ingredients designed, patented, produced, and addressed to the Industry of Cosmetics, Pharmaceuticals, Food Supplements.
 What will you do
Present, promote and sell products using solid arguments to existing and prospective customers
Perform cost-benefit and needs analysis of existing/potential customers to meet their needs
Establish, develop, and maintain positive business and customer relationships
Reach out to customer leads through cold calling
Expedite the resolution of customer problems and complaints to maximize satisfaction
Achieve agreed upon sales targets and outcomes within schedule
Coordinate sales effort with team members and other departments
Analyze the territory/market's potential, track sales, and status reports
Supply management with reports on customer needs, problems, interests, competitive activities, and potential for new products and services.
Keep abreast of best practices and promotional trends
Continuously improve through feedback
Requirements
Bachelor's Degree in Chemistry, Chemical Engineering, Agronomist, Food, or related field
Previous sales experience at least 3+ years in food industries.
Willingness to travel/visit multiple customers throughout the assigned territory (within the country).
Possibility to travel out of the country
Highly motivated and the target is driven with a proven track record in sales
Good selling, communication, and negotiation skills
Excellent English communication skills, both verbal and written
Good organizational, time management, and prioritizing skills
Relationship management skills and openness to feedback
Excellent knowledge of MS Office (PowerPoint, Excel, and Word)
Highly motivated and the target is driven with a proven track record in sales
Valid drivers' license and a clean driving record.
Compensation& Benefits
Office Location: Nicolae Caramfil Street, district 1, Bucharest
Company car for business purposes
Annual bonus objectives
Excellent growth opportunities with continuous training
Modern office environment with all the work and play amenities
Working in a friendly environment
https://evolvetoday.ro/job/key-account-executive-food-industries/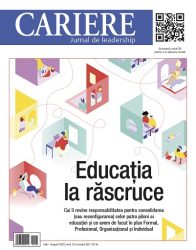 CARIERE, no. 267, august 2020
Citește-te acum