Descriere
As Major Incident Specialist you will be part of our partner Operations department. You will work shifts in 24/7 Operation Center, working with Team Managers, Suppliers, Contractors, 3rd parties, Service Managers, etc.
This is your chance to be a part of the Improving team! Come work with a company that believes that teamwork is the greatest competitive advantage and holds respect for people, providing a great place to work, and delivering quality results as core values.
This position's day to day responsibilities will challenge you to be both independent and highly collaborative. It will require a problem solver with a positive attitude who loves to learn new things.
Compensation & Benefits:
Office Location: near Unirii – central location
Modern office environment with all the work and play amenities
Working in a friendly environment
Working with new technologies on interesting enterprise level projects
Responsibilities:
Responsible for the complete process adherence and handling of incidents according to SLAs;
Responsible to act as an escalation point to expedite incident resolution;
Responsible to handle P1 incidents and escalate to Major Incident Manager when it becomes a Major Incident;
Liaison with team managers of all Technical Experts (or delivery teams) to ensure swift resolution of incidents within SLA targets;
You will be able to diagnose and prioritize incidents, investigating their causes and finding resolutions together with engineers, working also closely with Problem Management;
Coordination with suppliers, contractors, 3rd parties, etc. to ensure timely incident resolution and contractual fulfilment;
Analysis and trending of incidents, root cause to allow improvement initiatives to be incepted and delivered in conjunction with Service Managers, where required;
Ensure that Incident Management KPIs are reported and their targets met;
Grow technical, business, leadership, and interpersonal skills year over year, including increased certifications around ITIL and other internal and industry-recognized Service Management disciplines
Opportunity to exert tremendous direct influence over Service Quality & Availability
Requirements:
Bachelor's Degree in Computer Science or related degree would be a plus;
Minimum 1 year of experience in similar role;
Excellent English and French and communication skills (written and oral) to facilitate efficient and effective interaction with peers and customers;
Experience with ticketing applications(Servicenow) is a plus
Microsoft Office knowledge
Successful delivery against commitments and deadlines;
A proven ability to operate with virtual teams;
Nice to have:
Working knowledge of ITIL incident, problem, and change management components
Good Spanish communication skills (written and oral)
If this sounds interesting for you, please send your CV at [email protected] and I will contact you at soon posible.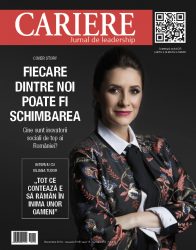 CARIERE no. 253, decembrie 2018
Citește-te acum