Descriere
Our client is a forerunner in the field of performance education - training young minds in tech fields. The company's mission is to create sustainable growth nationwide, through performance education and next-level strategic entrepreneurship.
Responsibilities:
Develop strategies and tactics to get the word out about our client and drive qualified traffic to front door;
Deploy successful marketing campaigns and own their implementation from ideation to execution;
Leading a team of passionate Social Media Specialists and helping them creating online strategies to ensure engagement on all the internal platforms;
Boosting morale and increasing productivity within team members for better and more efficient execution of tasks and projects;
Experiment with a variety of organic and paid acquisition channels like content creation, content curation, pay per click campaigns, event management, publicity, social media, lead generation campaigns, copywriting, performance analysis;
Build strategic relationships and partner with key industry players, agencies and vendors;
Prepare and monitor the marketing budget and allocate funds wisely;
Oversee and approve marketing material;
Measure and report on the performance of marketing campaigns, gain insight and assess against goals;
Analyze consumer behavior and adjust email and advertising campaigns accordingly;
Keeping the mission of the brand alive and in motion within the organization and making sure that the ideas at the top are in line with the organization's mission;
Developing, executing, and managing the implementation and optimization of all digital campaigns;
Remaining up-to-date on the latest innovations and inventions within the company's field of business.
Requirements:
Previous experience in digital marketing, PR, events, branding and brand awareness;
Previous working experience in start-ups, small and medium companies/organizations;
Excellent coordination and project management skills;
Proficiency in Excel;
Understanding of marketing automation principles, customized and multi-touch campaigns, dashboards, and reporting;
Excellent interpersonal skills and a "can do" attitude with an ability to adapt to changing priorities in a fast-paced setting;
Enthusiasm, problem-solving skills and creativity are definitely a must;
Tech-savvy person, with an interest for digital transformation projects;
Should prefer a hands-on environment.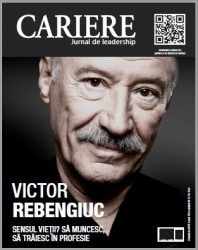 CARIERE no. 261, octombrie 2019
Citește-te acum