Descriere
We are currently recruiting an Microsoft SCCM Engineer in Bucharest for our partner, an IT&C service provider. The Company has various technologies certifications such as: data center, virtualization, enterprise cloud infrastructure and business intelligence.
Role description:
The SCCM Engineer must have sufficient technical depth and a superior knowledge and demonstrated technical proficiency in their core technology as well as excellent troubleshooting skills across a broad spectrum of supporting technologies, with troubleshooting at the expert level within enterprise environments. Migration experience and design experience is a must.
This individual will diagnose and correct SCCM solution performance problems. The role requires a technically strong Consultant who is resourceful, confident under pressure, and has demonstrated skill in design and deployment of an SCCM Infrastructure solution.
Responsibilities:
• Troubleshooting the issues regarding SCCM Applications, Windows updates, operating system deployment, functionality issues of the product, reporting, clients, other SCCM components;
• Add new objects in SCCM, as apps, packages, updates, baselines, operating systems, report;
• SCCM solution management: manage DP, ensure proper SCCM functionality and problem solver, extend functionality by adding new features;
• Redesign SCCM architecture;
• Apps packaging;
• SCCM Co-management – Intune;
• Any other request in SCCM/Intune area.
Requirements:
• Bachelor's Degree in IT/Computer Science;
• At least 3 years' experience with Microsoft Infrastructure Administration;
• 1 year experience with Microsoft SCCM;
• Excellent English written and verbal communication skills;
• Certification training such as MCSE and MCP preferred;
• Solid understanding of standard client/server, Networking and Internet fundamentals;
• System Center Configuration Manager 2007/2012 Infrastructure Design Experience in a medium to large environment;
• Superior knowledge and technical proficiency managing a Configuration Manager implementation in the clientserver components and feature sets;
• Troubleshoot all aspects of Configuration Manager effectively and understand the product flow encompassing software distribution, patch management, operating system deployment and logging in detail;
• Configuration Manager Disaster Recovery planning and execution;
• SQL, IIS, WSUS, AD knowledge and troubleshooting skills as it pertains to Configuration Manager;
• Understand the fundamentals of WMI and how it is utilized by Configuration Manager;
• Scripting (e.g. VB or Powershell);
• SCCM Application packaging and deployment;
• SCCM Performance Monitoring;
• Experience in other Microsoft Management technologies, including Active Directory services (AD), and System Center Operations Manager, System Center Essentials and WSUS is desired.
Benefits:
• Trainings & certifications;
• Exposure to an international environment;
• Flexible schedule with remote work.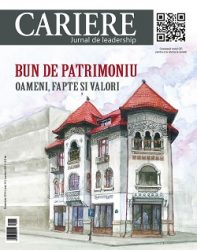 CARIERE no. 262, nov. 2019
Citește-te acum