Descriere
ABOUT US:
Teach for Romania is a non-governmental organization, that envisions life opportunities through excellent education for every child in Romania, regardless of his or her social and economic background.
Our mission is to recruit, train and support professionals who take ownership for transforming the society, through a leadership development program in education. After the 2 year teaching program, Teach For Romania supports its alumni, equipped with the experience, conviction, and insights to be a force for change, working across sectors to expand educational opportunity.
The staff of Teach for Romania is comprised of high potential professionals, who work relentlessly to transform the society by being an active part of a movement in education.
For more information, visit: www.teachforromania.org.
YOUR ROLE
We are looking for an Operations Specialist that will join our mission by working within our Operations Team in order to provide assistance through Office Management responsibilities and by aiding in Organizing Events for our community.
Role-type: Full-time, based in Bucharest.
RESPONSIBILITIES:
EVENTS & CONFERENCES:
End-to-end management of the relationship with the owner (from needs analysis to evaluation);
Manage the communication with the participants, before & after the event (feedback & surveys);
Manage the logistical organization;
Offer support in managing the barters partnerships;
Coordinate the team of volunteers that support us during events.
OFFICE MANAGEMENT:
Monitor the implementation of general working procedures for the organization (for example, GDPR);
Works with vendors to ensure that the functions of the office run smoothly (office maintenance, couriers and others);
Manage the maintenance of the car fleet of the organization (4 cars).
PROFILE REQUIREMENTS:
We are looking for someone with:
Great organizing skills;
Good communication skills;
Process management;
Event management;
Stakeholder management;
Proved experience in working with clear organizational procedures.
Who is:
Customer oriented;
Assertive;
Proactive;
Resilient
Who knows:
Zoom , Google Drive, One Drive;
English, medium level;
How to use Microsoft Office.
REQUIREMENTS for this role:
Minimum 1 year of work experience in Organizing Events & Conferences;
Working experience in Logistics & Facilities.
It would be preferred to have:
Driving licence: category B.
BENEFITS:
A chance to do high-significance work in education(more access to excellent education for all children);
The opportunity to build up your skillsand develop yourself personally and professionally;
Access to training and learning opportunitiesinside the organization and from our learning partners;
An excellent working environmentin a value-based organizational culture;
Access to a global community of experienced and talented specialistsand first-hand innovative approaches and models from the Teach for All network.
The selection process will consist in:
Screening, based on resume and motivation letter;
Online test or additional survey;
Interview with the Operations Director;
Interview with the Executive Director.
We will review the applications on an as we go basis.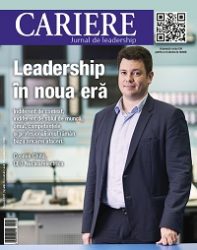 CARIERE, no.273. August 2021
Citește-te acum