Descriere
The Partnerships & Institutional Relationships department aims to build communication bridges between Teach for Romania programme and the Romanian education system. Our colleagues ensure the access in the system by making sure our participants understand and follow the specific legal context. In this department we initiate, develop and maintain partnerships with the certified institutions involved in the placement process in the Romanian education system, such as: The Ministry of Education, inspectorates, schools or other governmental institutions.
Responsibilities:
You will manage and facilitate our candidates' access in the Romanian education system, through:
• Offering support in understanding and following the specific legal context;
• Offering support in understanding the limits and opportunities of the education system;
• Building relationships with TfR candidates in order to help them make the best placement choice;
• Setting the expectations regarding the placement process for each candidate;
• Analysing the open jobs for different subjects in every county;
• Building and maintaining institutional relationships and partnerships with representatives from schools, inspectorates, ministry, city hall, unions;
• Building and maintaining relationships with other NGOs, private institutions and education communities;
• Visiting communities in order to understand their specifics and needs;
• Managing activities, finances and budgets related to placement;
• Organizing specific events.
Cerinte:
Profile
Skills required:
• Critical, strategic and creative thinking;
• Exceptional communication skills;
• Patience and tolerance for divers and multicultural contexts, calm and balance;
• Conflict mediation skills;
• Self-management and structured way of working;
• Exceptional people management skills;
• Excellent time management and organizational skills;
• Being open to understand and work with specific legal context;
• Process management.
Mindset required:
• Positive thinking;
• Solution oriented thinking;
• Self-confidence;
• Perseverance and resilience;
• Sense of Possibility and Empathy;
• Proactive thinking and behaviour;
• Willingness to learn;
• Fit with Teach for Romania's vision, mission, values.
Job requirements:
• Batchelor's Degree
• English Proficiency minimum level B
• PC skills: MS Office (Word, Excel, PowerPoint, Outlook)
• 2 years working experience within primary or secondary education system OR in a role working in direct contact with the system.
It would be a plus if you also had:
• Driving licence B category
Oferta:
Benefits
• A chance to do high-significance work in education (more access to excellent education for all children);
• The opportunity to build up your skills and develop yourself personally and professionally;
• Access to training and learning opportunities inside the organization and from our learning partners;
• An excellent working environment in a value-based organizational culture;
• Access to a global community of experienced and talented specialists and first-hand innovative approaches and models from the Teach for All network.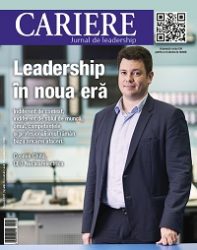 CARIERE, no.273. August 2021
Citește-te acum