Descriere
For our business partner, a start-up with 100% Romanian capital, with a unique offline infrastructure and a software ecosystem, we are looking for a skilled PHP Developer to be part of a great team. In this role, you will do evolutionary maintenance for an application used for the transport/logistics area.
Central location: Nearby University subway station
In this role you will
Develop and deploy new features to facilitate related procedures and tools if necessary
Perform evolutionary maintenance, enhancements, and new development as required
Work cross-functionally to convert business needs into technical specifications
Follow industry best practices
Requirements
 Bachelor's degree in Computer Science or equivalent.
At least 3 years' experience with PHP
Experience working with MySQL database
Knowledge of front-end technologies including CSS3, JavaScript, and HTML5
Knowledge of PHP frameworks – it an advantage
Good understanding of the web development environment
Eager to learn new technologies such as Reactjs, Nodejs
Good communication skills for effective dialogue with colleagues and client
Enthusiastic team player
Attention to detail - application of quality standards to any tasks and care not to oversee any aspects
Goal oriented - maintaining focus on agreed objectives and deliverables whatever the circumstances
What We Offer
 You benefit from the collaboration with a team of software architects and highly experienced managers, who have gone through all the positions related to software development in their careers and understand the needs and dynamics of the technical teams
We offer the possibility to learn from scratch, together with an experienced team, new technologies such as ReactJS, and Nodejs
Subscription for medical services
Meal vouchers
If this sounds interesting for you, please send your resume at [email protected] and let's chat!
Alte joburi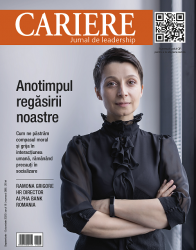 CARIERE, no. 268, octombrie 2020
Citește-te acum