Description
Contact: [email protected]
Digital marketing agency with over 10 years of experience in complex projects: publishing portals, ecommerce sites, flash applications & websites, brand projects, etc.
The company has it's HQ in Bucharest and accepts full time/part time employment hybrid or remote work.
Requirements:
Technical studies - Automation, Robotics, Mathematics, Cybernetics
PHP developer experience (2 – 3 years)
Knowledge of PHP and MySQL;
JavaScript, HTML, XML and CSS knowledge;
WordPress knowledge;
Laravel knowledge (represents an advantage);
Photoshop or similar knowledge (represents an advantage);
Ability to work on a project from design stage to go live;
Analytical thinking, results orientation and attention to details;
Organizational and interpersonal communication skills.
Responsibilities:
Developing dynamic web applications using mainly: PHP, MySQL, JavaScript, HTML, CSS;
Post-implementation maintenance and development for company-developed solutions (complex projects - very complex portals, ecommerce sites, flash applications & websites, etc.)
75% back-end development, 25% front-end development.
Offer:
Negotiated salary according to the professional experience;
Bonuses & Prime.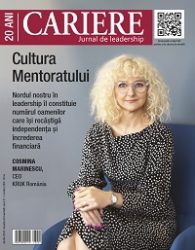 CARIERE NO. 283
CITESTE