Descriere
For a non-profit organization actively involved in national and international energy policy,  regulatory dialogue, and analysis on the expansion of renewable energy sources, being the voice of energy transition and wind energy industry in Romania. we are looking for a highly skilled Policy Officer to join the team of the leading association in the wind power sector in Romania
The Policy Officer occupies a key position in the association as (s)he will follow the policy and the electricity market fundamentals, regulatory evolutions, macroeconomic trends, technology progress, etc which impact the profitability and operations of the power industry in Romania.
The Policy Officer is also expected to undertake high-quality interactions with national (such and the energy regulator, TSO, centralized market operator, etc) and international stakeholders (such as WindEurope).
You will:
You will lead in delivering our political engagement across the whole energy policy spectrum, this will include your own direct engagement with a wide range of stakeholders, including Government and business, as well as advising on and creating opportunities for engagement by senior staff and visiting Romanian officials and Ministers.
You will provide expert analysis and reporting on significant energy issues and developments in Romania. This will include monitoring and summarising local media and analytical reports, identifying key energy developments; routine reporting of key energy events; and the preparation of a monthly report.
You will need to develop and maintain a network of key contacts within the Romanian government, civil society, and business community
You will undertake or commission research and gather and analyze data and information
You will develop expertise in a particular area, or draw on the expertise of others
You will keep up to date with social, political, and economic developments, and be able to provide relevant advice to senior managers, stakeholders, and decision-makers
You will write briefings, reports, speeches and deliver oral briefings and presentations
You will Carry out consultations with internal and external stakeholders - including colleagues, customers, or members of the public and work with a wide range of people and organizations,
The ideal candidate will be:
Passionate to make an impact on the society and energy industry, in particular through the development of renewable energy;
Graduate, at least at MA/MSc level, a program in energy, economics, politics, or international relations;
Passionate about politics, policymaking, and energy market developments, with the ability to learn quickly;
Proactive and autonomous, with very good team spirit;
Proficient in writing high quality, argument-based position papers, and presentations, both for internal and external use;
Proficient in English, both speaking and writing.
What we offer:
A competitive remuneration, which will be proportional to the candidate's skills;
The possibility to work both remotely and from the office;
A high level of visibility in the energy sector and the possibility of professional
If this sounds interesting for you, please send your resume at [email protected] and let's chat!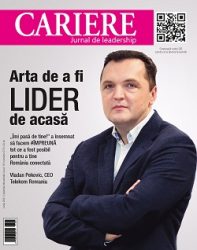 CARIERE no. 272, iunie 2021
Citește-te acum