Descriere
We are looking for a Process Engineer for the new start-up factory opened in Satu Mare.
Our client is an entrepreneurial company that operates one of the most modern aluminum extrusion lines in Europe. The company enjoys a reputation in the industry of being niche provider that operates quickly and flexible and is concentrated on specification-based application in divisions like Automotive, Pneumatics, Industry and Commerce.
As a Process Engineer you would:
Lead and actively drive the continuous improvement of existing processes both for aluminium extrusion and foundry – casting;
Collaborate in implementing and establishing the manufacturing processes;
Monitor and control the production processes in order to increase productivity;
Prepare the technical specifications of the processes, taking into account the requirements of the Quality department;
Create 8D reports;
Offer technical support within production, regarding the extrusion process.
Requirements:
Bachelor's Degree in Engineering;
Experience in the extrusion process – 2 years minimum;
Knowledge of production methods, auditing, and/or occupational risk prevention, industrial costs, lean tools (5S, SMED, poka-yoke, Kaizen, 6-Sigma, Jidoka, VSM, VAVE, etc.);
Advanced software skills (Microsoft Office);
Advanced level of English language;
Good organization skills and structured manner of work;
Very good communication and presentation skills;
Ability to think "out of the box" and to work independently;
Attention to details, proactive and flexible.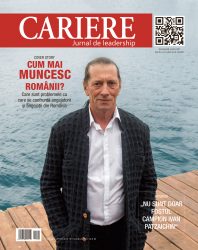 CARIERE no. 254, februarie 2019
Citește-te acum