Descriere
We are seeking an experienced Product Design & UX Manager who is ready and capable of taking software design to the next level. He or she is a brilliant problem solver, quick study, self-starter, and excellent communicator with a passion for great design and the ability to achieve it.
Our partner –  is the latest initiatives of a top Romanian company with almost 20 years of presence on the market which aims to build a software ecosystem for modern eCommerce from scratch based on the principles of people's natural behavior of exploration, discovery, and adventure. Subsequently, the entire technological design will form the basis of their eCommerce store based on gamification, Artificial Intelligence, and predictive analysis.
Central location: Nearby University subway station,
What You Will Be Doing
Provide leadership, direction, and mentorship for a team of UX/UI Designer/Developers throughout the lifecycle of the software product development process
Manage and develop a team of designers which requires setting clear goals, managing project loads, and allocating designers, accordingly, ensuring deadlines are met, and setting up team members for the overall success
Deliver the UX vision for their product suite, along with a plan for evolutionary, iterative updates, that actualize the larger vision over time
Build strong relationships with leaders outside of the UX/UI Team to efficiently implement user experiences that are cohesive, inclusive, and well-informed.
Be accountable for the overall coordination and strategy of the UX design creation – including research, standards, wireframes, prototypes, testing, and defining functional specifications
Review and guide the UX/UI team in ensuring delivery meets user design goals and use cases.
Work within an Agile development methodology to deliver products (both desktop and mobile) with an innovative experience design
Analyze web data, market research, beta, and customer usability feedback to recommend and incorporate changes that simplify and improve the user experience
What You Need for this Position
8+ years of experience in UX/UI Design with a focus on user interfaces
3+ years of experience managing or leading design teams
Demonstrated portfolio of UX-focused work samples for web and mobile applications
Working knowledge and support of Web Accessibility Standards
Strong self-management skills – ability to prioritize and stay organized while juggling multiple projects
An excellent eye for art direction and proven ability to see it applied with consistency
Ability to iterate designs and solutions efficiently and intelligently
Excellent communication and presentation skills
Able to clearly and effectively communicate UX design processes, ideas, and solutions to teams and customers
Passionate about resolving user pain points through great design, but open to receiving constructive feedback
Deep knowledge and appreciation for all areas of user experience design (information architecture, interaction design, visual design, prototype engineering, content)
Has a rare blend of interaction design, visual design, and prototyping skills.
Proficient in a design tool of choice (Sketch, Figma, Adobe XD)
Extraordinary written and verbal communication skills
Excellent collaborative skills
Capable of working in a loosely structured organization
Highly professional, with the ability to deliver solid work on a tight schedule
A portfolio that contains your best examples of responsive web-based apps projects and/or mobile apps, handling UX and UI work will be requested.
What We Offer
Involvement in the development of a new eCommerce concept, completely realized in Romania, by a start-up supported with an exclusively Romanian investment.
It starts from scratch, the team decides the functionality of the platform, how the code will be written, how the components interact, the data format, and the processing flow. There are no restrictions on existing functionalities, previous architectures, data in outdated formats. Everything is new, modern.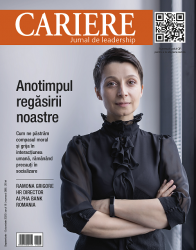 CARIERE, no. 268, octombrie 2020
Citește-te acum